Frances Lentz '45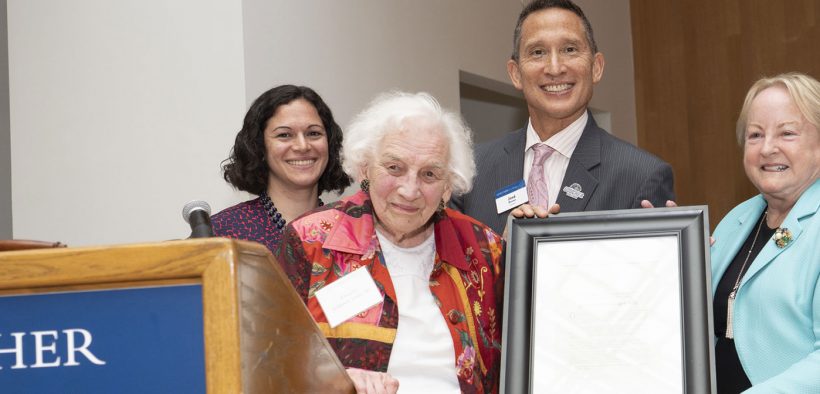 Lentz honored as Goucher's Elizabeth Statuta Baker '70 Public Service Award winner
By Natalie Eastwood
When Frances Lentz '45 was still in high school, she thought about becoming a lawyer or a judge, but after shadowing her father in the courtroom, she realized she didn't see the world in black and white, right and wrong. Instead, she chose to help people as a social worker and to advocate for those with mental illness during a time when there were no resources, support, or understanding of mental illness. Lentz entered the grayest of unknowns.
"It takes some effort to figure out what you want to do and how you want to do it," Lentz says. "I worked at it."
For her work, the Alumnae/i Association of Goucher College has given Lentz the Elizabeth Statuta Baker '70 Public Service Award.
After graduating from Goucher, Lentz earned her master's at Smith College, then spent a year as a social worker before becoming a mother to four. After her children were in school, Lentz resumed social work at a child guidance clinic, where she helped students who weren't adjusting to school.
What she's most known for, however, is her work to build Baltimore's chapter for the National Alliance on Mental Illness (NAMI) starting in the early '80s. Lentz became an advocate of mental illness when her 20-year-old son was diagnosed with schizophrenia. Today, he manages his illness and visits his mom twice a week. Almost 40 years ago, however, Lentz didn't know what to do or who to turn to for help.
Lentz set out to change that, to provide families with information and to improve the perception of mental illness. At that time, schizophrenia was commonly blamed on the mother, she says, and Lentz worried she had done something wrong. But, as she discovered, family members and individuals with a mental illness are not to blame.
Lentz was one of five in the first NAMI meeting. The next month, there were 70 people in attendance. "There was a great need for families with mental illness. That's why it grew so fast, not because I was such a genius," Lentz says. "There was a great need. It was a great vacuum—there was no help at all for families experiencing mental illness."
Lentz volunteered for NAMI for about six years, indirectly influencing today's movement toward education and acceptance. Lentz has also directly inspired others entering mental health fields.
Reilly Weinstein '17 was interning at NAMI while enrolled at Goucher and was put in touch with Lentz because of their shared Goucher background. Between Lentz's phone calls and letters, Weinstein garnered a new perspective for the stigmatization and ignorance surrounding mental illness. Lentz once told her about the time she was meeting with a county legislator on behalf of NAMI, and he equated mental illness to intellectual disability; he didn't understand that people could experience clinical anxiety and depression, among other mental illnesses. Weinstein says, "Frances was living in a different world."
"I admire the grit that Frances had, her passion, and overcoming all the obstacles in that process," Weinstein says. "There's such a stigma today, so I can't even imagine what it was like in the '70s and '80s."
From all of Lentz's stories, what's impacted Weinstein the most, she says, is the image of a group of women meeting in kitchens and living rooms to grow something from the ground up.
Weinstein says Lentz was a role model and helped confirm her decision to pursue a career in clinical social work. It's why she nominated Lentz for the public service award.
"I feel honored," Lentz says. "I'm glad that someone thought what I did was worthwhile."
(Photo at top): Kara Byrne Bundy '02, Frances Lentz '45, President José Bowen, and Elizabeth Statuta Baker '70