First in class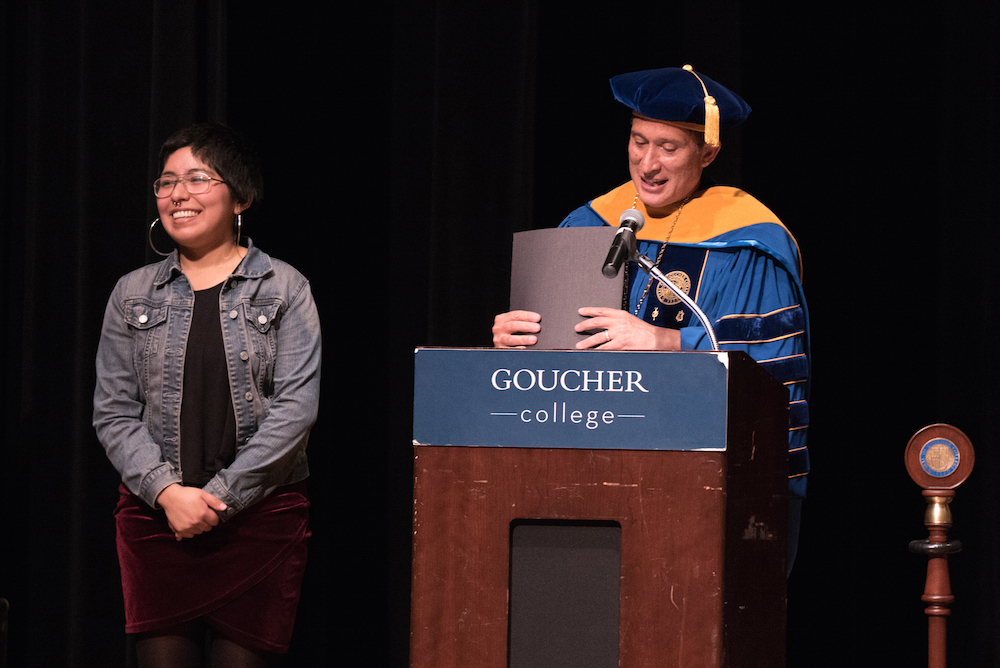 By Molly Englund
Three first-generation college graduates from Goucher—Alexa McCoy '16, Raekwon Walker '17, and Penelope Durand '17—are joining Teach For America's (TFA) 2017 corps, and will work in Baltimore City. A fourth Goucher grad, Lila Stenson '17, will go to Memphis. Durand and Stenson will teach Spanish, and McCoy and Walker will teach English. In addition, both Durand and Walker have won the Elizabeth Deale Lawrence '66 and Bryan Huntington Lawrence Prize for Innovative Teaching, which comes with a $25,000 prize. The two were awarded at Goucher's Convocation ceremony May 5.
Walker is from Newark, NJ, and has a B.A. in English with a concentration in creative writing. Last year, with a fellowship through the Kratz Center for Creative Writing, he traveled to Atlanta to write poems about black migration, inspired by the paintings of Jacob Lawrence. He sees the work he'll do with TFA as an extension of the kind of education and experiences he received at Goucher as the first person in his own family to graduate from college.
"I'm looking forward to teaching in Baltimore," Walker says, "because over the past four years Baltimore has become my home, and the young scholars here have taught me that learning does not happen without connections being made between the classroom and their outside lives. I hope to bridge the gap between our classroom space and what happens outside. I think learning is more fun when class material is related to lived, personal experience. I had great teachers do that for me."
The corps' mission is "to enlist, develop, and mobilize as many as possible of our nation's most promising future leaders to grow and strengthen the movement for educational equity and excellence." TFA and other educational organizations and nonprofits have increasingly become a destination for Goucher graduates. Data collected from 87 percent of the Class of 2015 showed 30 percent of respondents work in either nonprofits or education and training. It also showed 93 percent of that class were employed within one year of graduation, and 99 percent were employed and/or pursuing graduate education.