Finding sanctuary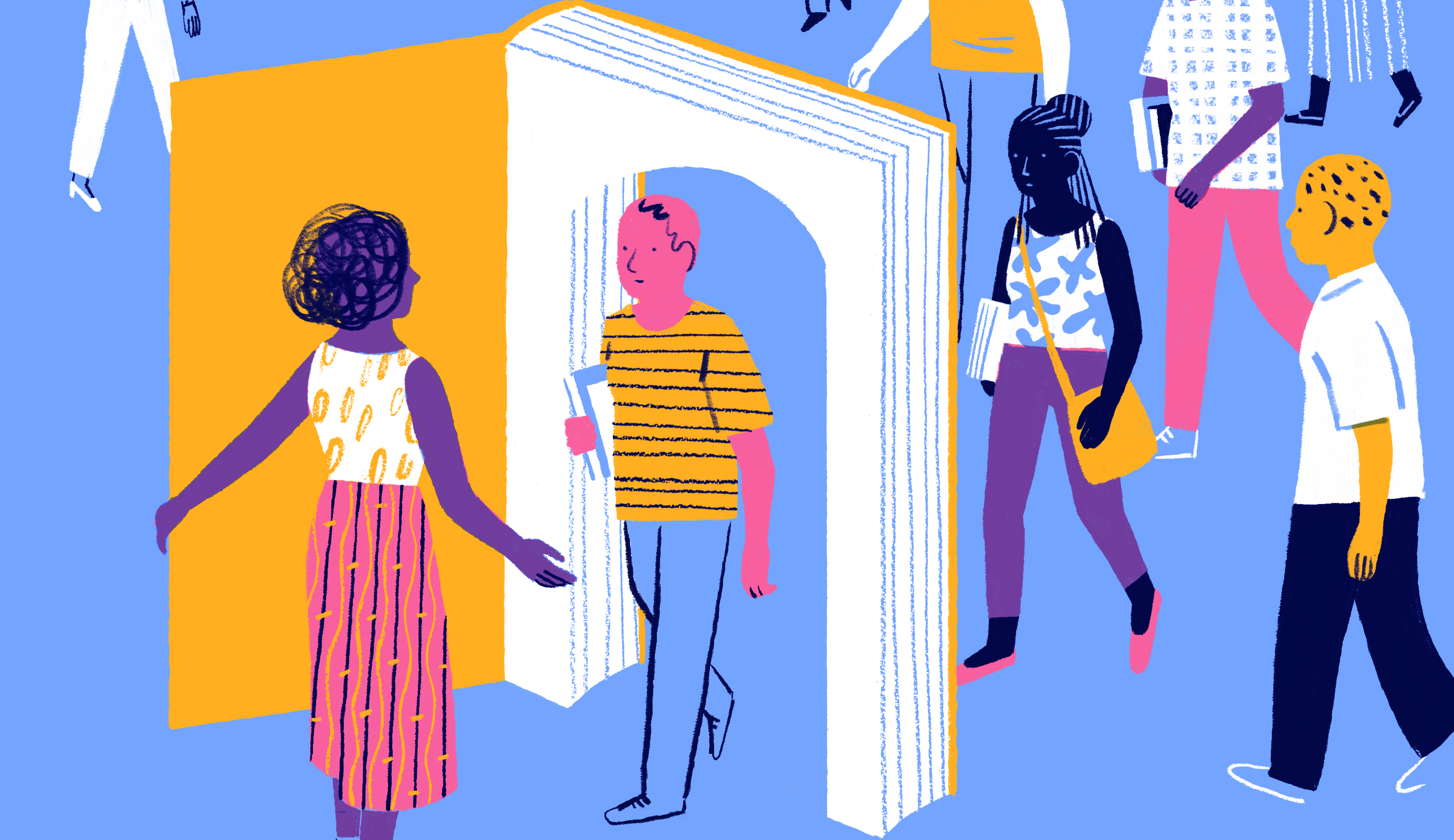 By Molly Englund
Illustrations by Marta Monteiro
The van pulls off of Campus Loop Road on a late afternoon in April, and Esther Grossman '17 pops out of the driver's seat. She apologizes for leaving it idling for a few minutes with the AC on, but it's really hot in there and most of the windows don't open.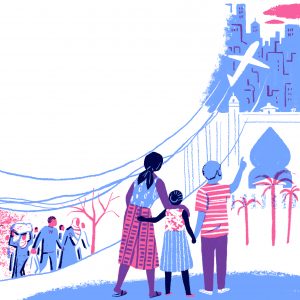 Other Goucher students, many of them first-years, begin to gather, and the conversation turns to classes, intellectualism, and the teaching styles of different professors. When all seven students have arrived (an eighth couldn't make it that day), they get in the cooled van and head to East Baltimore. On the highway, the students debate whether it was a revolutionary action to occupy President Bowen's patio for a recent peace studies class. They decide it wasn't, unfortunately, as José and Kimberly Bowen were too welcoming.
Through Goucher's Office of Community-Based Learning, these students volunteer with Baltimore City Community College's Refugee Youth Project (RYP), tutoring kids at Patterson High School twice a week. Most refugee students who are resettled in Baltimore attend Patterson for high school; the younger kids go to Moravia Park or Catonsville Elementary, where RYP also has programs. Between the three schools, RYP works with 300 students. At Patterson, the number fluctuates, but anywhere from 25-40 students might show up for the after-school program. They have two options: do their homework or practice their English, with volunteers ready to help with either.
Today, the room is full of kids smiling and joking in small groups. Some come up to hug the volunteers and say hi. It turns out that two of the Patterson students got into Goucher, and everyone is excited. One of the students is Yohanis Teweldebirhan, a 19-year-old who came to Baltimore with his family two years ago. They are from Eritrea, but Teweldebirhan was born and raised in Sudan, where he attended a private school for Eritreans. Civil war in Sudan forced the family to leave for the U.S.
According to Grossman, the majority of refugees that attend Patterson come from Eritrea, Ethiopia, and Syria. There are also students arriving from Sudan, Congo, and Iraq. (The largest refugee populations in the area hail from Myanmar and Bhutan, although, because of where they're resettled, most don't attend Patterson.) It's not uncommon for many of the refugees to have lived in several countries before arriving in America. Baharadin Hassan Mohammed
is an 18-year-old junior who has been in the country for two years, living briefly in Silver Spring, MD, before moving to Baltimore. Mohammed is Sudanese, and when he was 12, his family fled for Chad, waiting there for their visa to the U.S. to be approved. They knew it would be a long process, and it was too dangerous to stay in Sudan. They lived in Chad for several years.
Long waits are typical, according to Kursten Pickup, the coordinator for RYP. "On average, they're waiting between 3-15 years. Some of our families have been in camps or have waited over 30 years to come to the U.S." She points out that there are children born in camps who don't know any other life before being resettled. Of course, other refugees have vivid, aching memories of their home countries.
When they arrived in Baltimore in 2010, after a long journey from their home in Ethiopia, Ajito Odolla '17 and his family moved to a row house in Highlandtown.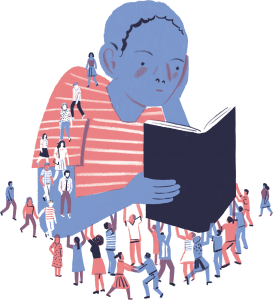 Odolla and a younger sister started at Patterson High School (the other siblings were in elementary school). He didn't know much English, other than the bits he'd picked up in a refugee camp in Kenya. Everything was new: "The house was different, things in the house were different. Everything was different." He was struck by the poverty he saw, though, and the homelessness. The racism was a shock as well. It didn't fit with his vision of America as the greatest country in the world. His father got a job at the Marriott Hotel in downtown Baltimore. Life entered a new cycle of work, money, and bills. It was a better life, and the family became friendly with the parents of their International Rescue Committee caseworker, Emily Fishbein. The Fishbeins, who live in Cape Cod, MA, invited Odolla and his siblings to spend summers with them, and helped them adjust to the U.S. But still Odolla missed almost everything about his home, especially the rainforest.
Odolla was born in a small village in the lowlands of the Gambella region of Ethiopia. Now an environmental studies major, Odolla worked on his father's farm as a child and fell in love with nature. "When I was little, there was no school in my village," he says. "When I little, I was taking care of my father's goats." The family eventually moved to another village with a school, and Odolla finally became a student, as his parents always wanted for him. His father, who owned a large farm, also ran a tea business. "My father is one of the best fathers in the world, because he worked really hard," he says. It was a tough life, and many people in their village lived without clean water or enough food to eat. But it was a life of friends and loving family—Odolla has one older brother and seven younger siblings—and the rainforest and the farms were like a part of him.
When Odolla was 10, that life changed abruptly. Odolla and his family are part of the Anuak tribe, an ethnic minority in Ethiopia (as well as Sudan). The Anuak people, according to Human Rights Watch, have been subjected to racism and abuse by the Ethiopian government and have been in conflict with the "highlanders" of Gambella, who are part of a different ethnic group. On December 13, 2003, soldiers from the Ethiopian National Defense Force, along with highlander civilians, entered the capital of Gambella and began to attack Anuak people. The highlanders claimed it was revenge for a recent attack on their own people by an Anuak group. The soldiers began to kill men and boys, and raped some of the women. They burned houses where people hid, and shot others as they ran for the forest. The massacre lasted three days, and 400 Anuak people were killed.
Odolla's family was unharmed, but they didn't want to live at the mercy of the government and decided to leave for Kenya (only his older brother stayed behind). The Odollas lived in Nairobi for a year before moving to a refugee camp. They would live there for the next five years. They hoped life would be good there, but it wasn't much better than Ethiopia. "That life was difficult," Odolla says. "There was not enough food, not enough water, dust everywhere, hot sun…There were security problems."
Odolla resumed school in the camp. He had been in fifth grade when they left Gambella, but he was now placed back in second grade, where he started to learn a little English. With a cousin, he built a house for his family out of soil bricks. In one college essay reflecting on that time, Odolla wrote, "During the school breaks, my friends and I made extra bricks to sell so that we could get money for our clothes, shoes, and other things. More than reading, writing, and arithmetic, I learned how to take care of myself in that refugee camp."
In 2008 or 2009—Odolla can't remember which—news came that the U.S. government had picked the Odollas for resettlement. Other friends landed in Canada or Australia, and one in Norway. After three rounds of interviews to confirm their stories didn't change, as well as physical exams, they were cleared to go. This is when Odolla first heard of the city called Baltimore.
The Odolla family flew first to Dubai, where they were surprised by the beauty of the tall, glittering buildings. From there they flew to New York, and then on to Baltimore. It was November of 2010, almost seven years after the massacre that tore them from their tribe and from their farm, from their friends and family left behind.
Odolla thrived at Patterson. He had not quite finished seventh grade when they left Kenya, and now he was thrown into 10th. It was a challenge, compounded by the fact that there were no other Anuak people among the Ethiopian students at Patterson. But he worked hard, and with help from RYP and a program called Building Steps, he was accepted into Goucher as a student in the Education Opportunity Program. Recently renamed the Maryland Scholars Program, it is an educational and financial assistance program for first-generation Maryland college students from under-served socio-economic backgrounds. Odolla is not only the first in his family to attend college, but the first to finish high school.
As much as he enjoyed Patterson, Goucher was altogether something else. "I love the community," he says. "I like that it's diverse, and classes are really small. Also, the professors are really nice. You can just go and talk to them and they'll help you. There are always people that are willing to help." He loves living on campus, and instantly felt a part of it. "I fit into Goucher perfectly, to be honest. I wouldn't change anything."
Odolla is having a busy senior year. He plays on the soccer team, studies hard for his classes, and works at the library's front desk during the overnight shift on weekends. He's hoping to get a job with a park service or in a lab after graduation. In 2015, with help from the Fishbeins, Odolla interned at the U.S. Geological Survey in Cape Cod, learning how to use a microscope and the importance of meticulous data collection. "It was a great experience for me, allowing me to learn lab techniques." But before starting his career, he will complete his study abroad in an intensive course in Costa Rica this summer, where he'll be studying coffee production and the local culture, and will also take Spanish classes. "I think I'm going to love it there," he says. After all, the climate is similar to home—he'll be back in the rainforest that will always be a part of him.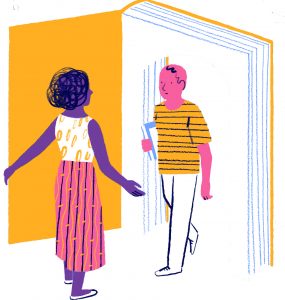 After the Goucher volunteers are done at Patterson for the day, they wait with the high school students for the bus that will take them all home, a perk of being part of RYP. Some kick around a soccer ball, others answer questions about Goucher posed by one of the newly admitted students. After the bus shows up for the kids, the Goucher students climb back in the van to reflect on the afternoon. Grossman, the student coordinator, leads the group in a round of Rose, Thorn, Bud. Each student takes a moment to recall something positive from the day, something that needs work, and something to look forward to. Grossman credits the Community-Based Learning Office, run by Cass Freedland and Lindsay Johnson '05 M.Ed. '13, with mentoring her and giving her the skills to help her volunteers process these visits. "CBL is incredible," Grossman says, "and an amazing asset to Goucher."
CBL was created to give Goucher students hands-on experiences in local communities and reflective opportunities that serve their educational and personal growth. The goal is to support faculty, students, offices, and the Baltimore community, while focusing resources and expertise toward the continuing development of thoughtful and informed global citizens. "The RYP program is a wonderful example of a Goucher partnership that began with a Community-Based Learning requirement through a course, and has become one of our most popular volunteer programs," says Freedland, CBL's director. "RYP is one of our fourteen 'signature programs,' and, like all of our CBL programs, emphasizes the importance of critical reflection (where the learning happens), building relationships (where the real meaning comes from), and co-creating mutually respectful partnerships with community members and organizations."
The Goucher volunteers have taken these ideas to heart. In the van, they discuss being mindful of the power dynamics involved, and how to be truly useful to the students in the short time they have. These after-school sessions can feel chaotic, as they never know how many Patterson kids will show up each time. But for some of the volunteers, it's the highlight of their week, and exactly the kind of work they came to Goucher to do.