Envisioning the future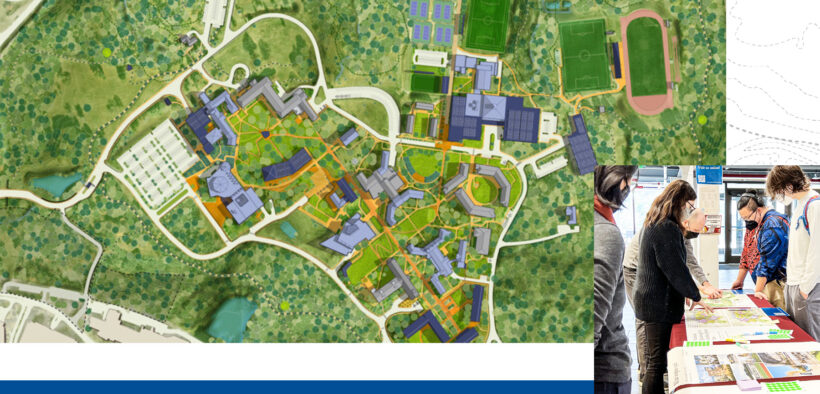 Goucher College unveils new campus master plan
College is a transformational experience, and at a residential college like Goucher, a sense of place plays a major part in that experience. The Goucher College campus today is very different from the college's original campus located in a neighborhood in Baltimore City now referred to as Old Goucher. However, as our current 287-acre campus has evolved in the 75 years since the college relocated to Towson in the late 1940s, the backbone of the campus has remained consistent with distinct academic and residential life districts anchoring each end of "Van Meter highway." While the characteristic features of Butler stone and wooded trails that distinguish Goucher's campus today will always remain, the new Campus Master Plan envisions what additional enhancements will be required as we approach Goucher's 150th anniversary in 2035.
Working with the Boston-based campus planning and design firm Sasaki, constituents across Goucher's various communities, including students, faculty, staff, alumnae/i, and the Board of Trustees, came together this past year to create a plan that, while still maintaining Van Meter highway as the college's spine, proposes a more student-centered, accessible, and sustainable vision for Goucher's future.
To reflect on this work, Goucher Magazine asked members of the planning committee to get together in the Ungar Athenaeum to discuss what they saw in the new Campus Master Plan.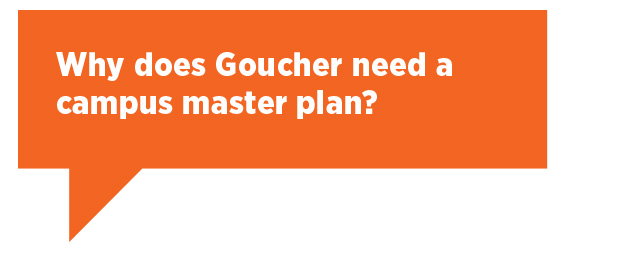 Caitlyn Clauson, Sasaki Chair At-Large and Principal: I think of it as the physical translation of a strategic plan that guides the campus's physical development over time. It's looking at the campus from an integrated perspective. It's looking at buildings, landscapes, programs, mobility, infrastructure, and sustainability, all of which need to work together in a symbiotic way that promotes the institution's values and healthy environments.
I think Goucher is unique because even the college's earlier plans established a structure that has stood the test of time.
Lisa Stromberg '83, Goucher College Board of Trustees Chair: My first time on campus was in 1979 when none of [the Ungar Athenaeum] was here. I see it from a board perspective, as we are the stewards of the remaining acres here, and we want to make sure that the campus, the bucolic beauty of it, is maintained, and that it promotes the health and wellness of everyone, and academic excellence is at the core.
I see this as a way of modernizing everything because things change, and we need to respond to the needs—in academics, athletics, and student affairs. There is a need for the students to have space, a central student location that is their space.
Andrew Wu, Goucher College Athletic Director: One of the most important things this plan does is establish the phases because it provides everyone with the understanding of what are all these things we want to do. Yes, they are all important, but within the next five years, you can expect the college, the alumnae/i, and the board to focus on these districts.
Michael Curry, Professor: It may not be this year. It may not be five years, but you're not forgotten. This plan answers the question, "Where am I in this?" So, you can see that everybody's being considered. And that was part of the process too. Everyone had a voice.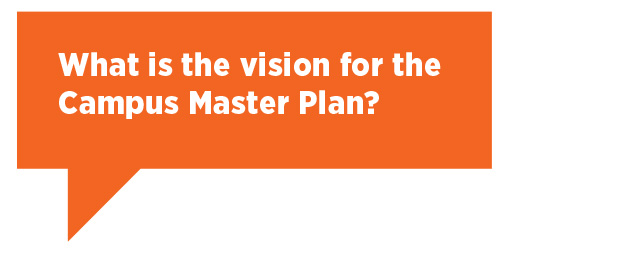 LS: I would say the overall vision is just, as stewards of this magnificent property, to maintain it, enhance it, and bring it to life for our students and our wider community. We are becoming more and more integrated with the broader community.
Khine Cho '23: [As a student,] what excites me most about the campus master plan is the clear vision for the campus and the different resources that are offered. The interactive and collaborative ideas excite me for Goucher's future … and as a future alumnus seeing the plans gives me something to look forward to.
CC: One thing that excited me about this project was the emphasis on sustainability, global identity, and diversity. There's a real strong identity at Goucher. It is a thoughtful community invested in creating an inclusive and sustainable environment. So, we are trying to bring that overlay to the campus environment in a way that marries the historical and the modern.
Kent Devereaux, President, Goucher College: In terms of accessibility and sustainability, what will it take to truly live our mission? It's not going to happen overnight, but we can say that's our vision, and that's what we want to achieve. Creating a campus master plan helps us crystallize the challenges.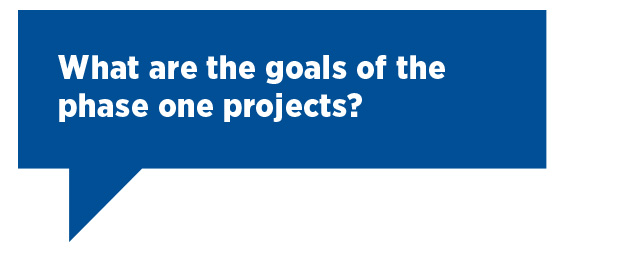 KD: It's pretty straightforward from our standpoint: the Science Innovation Center. Now is the time for the sciences. The campus was built in 1953, and since then the sciences have become an even more important part of our lives. We have an incredible history of Goucher alums in the sciences, and we have seen a steady increase in students interested in pursuing STEM degrees. So, it is a significant investment.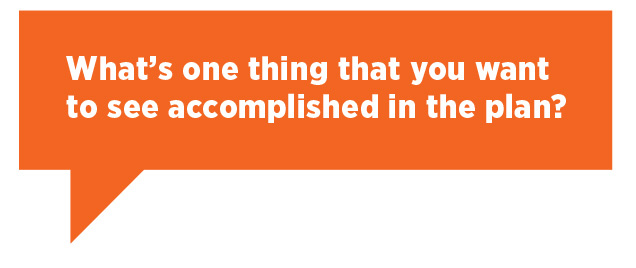 AW: It's a tough question to answer. The nature of athletics is such that every day, every coach tells me that what they have needs to be improved. But, besides the projects in phase one, I think the most impactful project for sports and recreation that will impact the most significant number of the entire community is the fitness and Pilates center. I believe that is a facility that can and should be a showpiece for the campus and the college. Students are increasingly interested in those facilities and their health and wellness. And there's a really good opportunity for us to put something together that can change the face of athletics and potentially shift student behaviors and encourage more students to enter a beautiful facility to walk on a treadmill or stretch or take a fitness class.
CC: In that same vein of thinking about the student experience, I think about the new student engagement center. This is one of the first times that we thought about the relationship between students and alums in an intentional way and about forging those connections early on and this type of facility.
MC: I'm very excited about the academic quad. I've been an advocate of interdisciplinary arts for years; seeing it physically manifested here is very exciting. It seems so obvious. Why didn't we think about that before?
KC: The greatest impact of the master plan is the [Science Innovation Center]. Many of my friends are bio or chem majors and having them have a new building is very exciting. I believe that is the most important part.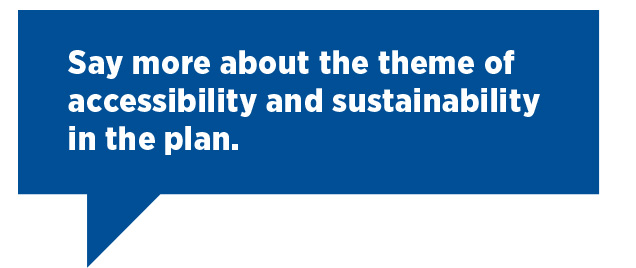 CC: I think introducing an accessible pathway that connects from the front of campus through an accessible pathway over to Van Meter Highway. It opens up a broad accessible corridor. We aren't just thinking about introducing an accessible path but also enhancing the landscape and the overall landscape experience.
In that same vein, I would say pushing the bar from an energy perspective—investments in solar and building infrastructure restoration. Also just thinking about reconnecting to the wilderness and forests surrounding the campus and ensuring we're preserving that space.
Infrastructure is often one of those things that you don't think about until it's gone, and then you realize it's critical. I believe in this era of climate emergency, the reliance on resilient infrastructure will only increase. And so that's where I think the energy modifications will be incredibly important.
KD: Accessibility on campus is a challenge. It impacts a significant number of students. If we truly want to live our inclusive mission, we must address this and be conscious of those choices. Unfortunately, in the past, we haven't been as intentional.
One of the benefits of doing a campus master plan was having the engineering done to see what we will need to do in the long run to realize that vision.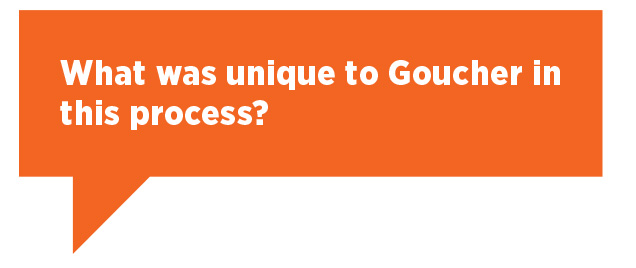 AW: During one of our conversations with the working groups, I was expecting to have to go to war and fight for my projects, but when it got down to my question, there was a lot of agreement on the small number of projects that everyone thought would be most impactful for the college, regardless of whether it was something they were involved in or not. Some folks who never go to an athletics or residence life event recognized that those were important parts to advocate for because of the impact it would have on college life.
CC: The continuity of the community. From student perspectives to alums.
LS: I realize the Hallowed Ground Project is integrated into this, but from a board perspective, we were very pleased that we were embracing the history of the land and were going to study the history of the land. Folks lived on this land and worked on this land so let's discover what happened and honor their legacy.
To bring the campus master plan to the board and have the board approve this without any objections is an amazing achievement. I give everyone involved—the staff members and the committee chairs—all my accolades and appreciation because that was a significant achievement.
KD: Now comes the hard part. A vision without a plan is fantasy. We had a lot of tough conversations. It was key. From the start, I have said, "What will the campus look like when we reach our 150th anniversary?" We might not achieve everything in the plan, but at least we have agreement on what we are aiming for. Now we have a vision. Next, we need to talk about that vision and identify those in our community who want to help us achieve that vision.
(Photos at top): The proposed campus plan; collecting ideas and input on the Campus Master Plan from current students