Elizabeth Forssell Hestnes '58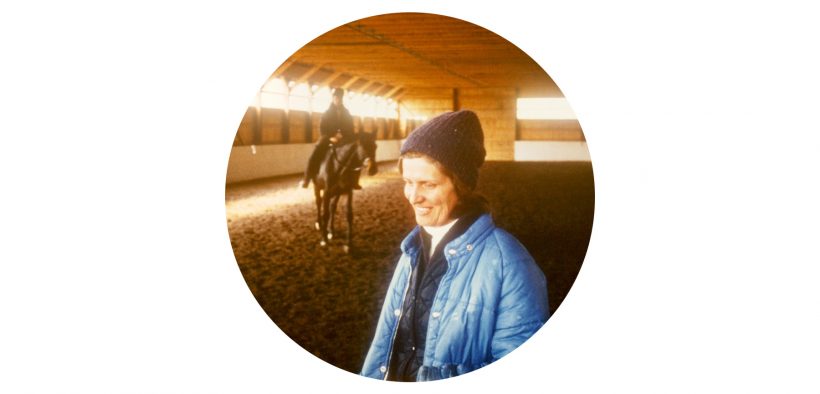 Riding a dream
By Natalie Eastwood
When converting a garage into a single-stall barn for your very first horse, it's crucial to create immaculate blueprints detailing the extra door that will lead to the backyard, to be used as the horse's paddock. The drying line, of course, must be relocated, but that shouldn't be a problem.
Elizabeth (Betsy) Forssell Hestnes '58 was a little girl in the 1940s who loved all creatures—the insects roused from her father's garden, salamanders housed between the glass pane and window screen, stray cats, and especially horses. Hestnes could think of nothing but horses. "I went to my father with my plans," Hestnes recollects, "and he looked at them very carefully and said, 'I don't think so.'"
They lived next to the library, so looking back, a horse in the garage wasn't the best idea, she admits.
Instead, Hestnes attended horse camp. "I went off to my riding lessons so excited. The instructor said, 'Now mount up,' and I had never been on a horse before in my life. Then the instructor said, 'All trot please,' and I thought I was going to throw up. It was nerve-wracking," she says. "From that point on, I would dress up like I was going for my riding lessons and then hide in the woods." It didn't take long for Hestnes to join a different horse camp, one where she spent most of the time meandering the woods on horseback and learning to care for these massive creatures.
It wouldn't be until Goucher that Hestnes took more formal lessons. Even though her instructor was more interested in jumping, Hestnes still preferred riding the trails and spending time with the horses.
In 1959, Hestnes married her late husband, Harold, and they settled in Weston, MA, where the rural space prompted a family member to gift Harold a pair of "psychedelic overalls" so that he could be a true farmer. Finally, Hestnes had space for a horse, although the barn would come later. Abigail Adams, named for the first lady, was bought with $900 and those psychedelic overalls—worn by Harold for the seller's amusement. Abby was a bombshell, Hestnes says, and at first, it took three people to feed her. In time, however, Abby would prove to be compassionate.
After moving to their third and final house in Weston, Hestnes expanded her garage-barn blueprints to include a real barn, indoor riding ring, and several horses. Hestnes had been involved in 4-H when her two children were young, which led to dressage, a highly skilled form of riding. Hestnes boarded, raised, and showed dressage horses competitively; she also taught others how to ride dressage and was president of the New England Dressage Association for many years.
One day, Hestnes was training a new horse when he reared his head, knocking Hestnes unconscious to the ground and then falling on her. Miraculously, Hestnes didn't break any bones but was told by the doctors to remain on bed rest in case of internal damage. Three weeks later and without her doctor's approval, Hestnes was back on Abby. To get her used to the feeling of riding again, two of Hestnes' friends stood on either side of Abby, each pushing into the horse to get her to sway.
"After three minutes of this," Hestnes says, "Abby threw her head to get rid of the women on the ground, and there wasn't a dry eye in the house because she just swayed from side-to-side [all by herself]." Then, Abby started walking and pulled into an easy trot. It was obvious to Hestnes that Abby knew what she needed.
(Photo at top): Elizabeth (Betsy) Forssell Hestnes '58