(Don't) quit your day job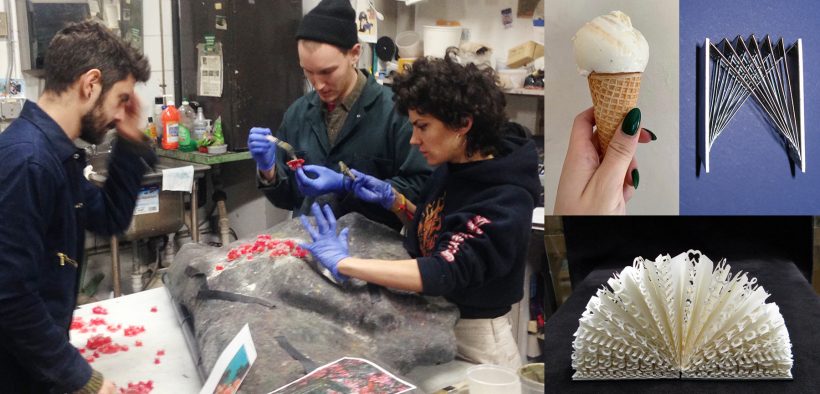 By Tara de Souza
There are countless books devoted to the topic. Thousands of Pinterest boards and Google searches are ready to inspire. Whether you are born with one or you discovered it as you grew older, a hobby can bring joy (and frustration) to amateurs exploring their passion projects.
According to a 2017 American Time Use Survey by the U.S. Bureau of Labor Statistics, on an average day, nearly everyone age 15 and over (96%) engaged in some leisure activity for more than five hours.
While watching television topped the list of national leisure time activities, Goucher graduates have embraced a variety of activities—gardening, dance, music, theater, sports and fitness, cooking, reading, and more in the search of pleasure and enrichment.
Hannah Spiegelman '15 married her educational interest with her leisure pursuit to create her one-of-a-kind blog, A Sweet History, which documents her passion for making history-inspired artisanal ice cream. A history and art history major at Goucher, Spiegelman returned to the college after graduation for a research project with Special Collections and Archives documenting Goucher's role in the women's suffrage movement. Around that time, she began working at a bakery/ice cream shop in Baltimore, as well.
Spiegelman had tried to start a few baking blogs while she was a student at Goucher, but they each fizzled out. "I was frustrated and trying to figure out how to connect my passion for ice cream and history," says Spiegelman. "My boss said, 'Why don't you make ice cream inspired by history?' and that is how it began. A Sweet History is exactly what I always wanted to do but just didn't know. It is very natural."
The first flavor she created was inspired by James Hemings, Thomas Jefferson's enslaved chef. Based on a meringue and custard dish Hemings cooked known as snow eggs, Spiegelman created a rose ice cream with vanilla meringues.
"History inspires the ice cream," she says. "I do a deep-dive into the research to form the idea of what flavors would explain the history best." She sources her ingredients in spice shops, apothecaries, and specialty food stores, and her collection is full of exotic flavors waiting to be used.
According to a 2015 Gallup survey, "The number of Goucher alumnae/i thriving in all five elements of well-being (purpose, social, financial, community, and physical) is almost double the national average."
The survey went on to reveal that, "Goucher alumnae/i are at least six percentage points more likely to be thriving in the elements of purpose and social well-being (62% each)."
Finding a way to combine many passions and pursuits can feel like work, but John Marra '06 finds fulfillment in both his day job and his passion projects. His varied pursuits can make it hard to see where one ends and the next one begins.
He currently works as an eco-literacy and restoration specialist for Blue Water Baltimore, where he implements greening projects throughout the area. Marra is a founding member of the Baltimore Rock Opera Society and the current lead singer for the punk band Cowabunga Pizza Time, and he is painting a mural at the JFX farmers' market in Baltimore City.
He has combined his love of stagecraft, the outdoors, and art with his new venture at the National Aquarium, where he works part-time in the habitat and fabrication department creating faux environments for animal exhibits.
"This work really brings everything I like about theater and combines it with everything I am doing at Blue Water Baltimore," he says.
Straddling the worlds between career and pastime has been difficult, as many late night performances collide with early morning tree planting, but Marra is only focused on the future.
"I hope the trees I plant and the Baltimore Rock Opera Society are both still here in 50 years," he says.
While Marra takes a more holistic approach to his pastime and career pursuits, for others hobbies could be seen as the antithesis of their careers.
Dennis Teegardin '12 is at a critical life juncture. In the spring of 2019 he decided to make his passion project his full-time career. After leaving behind his Maryland state delegate chief of staff position, he dove into pursuing his ultimate goal of becoming a master distiller at his own distillery, which will be located next to Berkeley Springs Brewing Company and will be called Teegardin Distilling.
"Politics prepared me for beer," he says. "It is David and Goliath out here since home brewers and small breweries are at a disadvantage [compared to the big distributors]. There is a lot of dirtiness in politics and the beer industry."
About five years ago, Teegardin treated himself to a homebrewing class for his birthday. Within one week of the course, Teegardin was committed to the craft and had spent $1,000 on equipment.
He looked for any way to become more involved in his new passion and began working part-time at Berkley Springs Brewing Company. He started behind the bar on the weekends, while still working full-time in Annapolis during the week. As the years went by, he began spending more and more time in Berkley Springs, eventually moving there full-time and commuting to Annapolis (he insists it is only a 90-minute drive to the Washington, DC, Baltimore, and Annapolis areas).
Now, he is the sales manager at the brewing company, which is in the renovated laundry facility of the historic Coolfont resort, and sometimes still finds himself behind the bar or helping brew the artisanal batches of beer.
His ultimate goal is to become a master distiller— creating moonshine, gin, and whiskey—but that will take more studying and hands-on experience. He wants to create a destination spot in West Virginia, and he would even consider making a Goucher-inspired brew. "The best brew I ever had is the brew that comes next," he says.
Much like Teegardin's experience, hobbies can be pathways to leading fulfilling and enriching lives, even if it isn't on the path that you originally started on.
Elizabeth Elliott '65 didn't begin exploring her love of artists' books until close to the end of her career. As a doctor of science in epidemiology, she spent three decades teaching and researching at the Johns Hopkins Bloomberg School of Public Health.
She pursued other passions throughout that time, including her love of singing (she is the only remaining singer from the first Baltimore Choral Arts Society concert to still perform with the group—they just celebrated their 50th anniversary). She is also an avid gardener and a regular in the Pilates Center at Goucher College.
But after seeing a calligraphy exhibition in the Washington Cathedral, she was inspired to create artists' books herself. An artist's book is made of mixed media, created entirely by the artist, and traditionally intelligent and witty. While pursuing this passion for more than two decades, she has taken evening classes at MICA to explore book structure, attended weekend classes in Washington, DC, and New York, and even apprenticed with a miniature book artist in Arizona.
"The appeal is taking an idea and finding a book structure that coordinates with that idea and then making it," she says.
Elliott pays close attention to every detail. The books vary in size and structure—some as small as 1.5 square inches and others up to 9 inches by 12 inches. Some are pop-up, others are miniature, and a few of her artists' books are fashioned as transformational pieces.
Materials change by project, but the basic supplies include paper, photographs, needle, thread, and glue—some feature finds from her local hardware store. Elliott is saving an animal jaw she found on a walk in the woods for "when inspiration strikes." She also received a book press for her birthday one year from her brother, who has the biggest collection of Elliott's work.
One of her first books, Zoo, featured an intricate accordion fold with pockets for each of the animals, who were all holding hands as you opened the book. She has also made a book-within-a-book, numerous slide books featuring her travels, and even a pop-up book documenting the Froelicher Hall building move on Goucher's campus. Her current favorite project includes a box that unfolds to reveal miniature 3-inch magnetic metal sculptures inspired by an exhibit of Mark di Suvero's work.
"For me, it is just the pleasure of it," she says. "Working with the materials and then seeing something I haven't seen before—something you can't buy in a store—and the pleasure of other people enjoying them."
It is that pleasure and joy that comes from pursuing your passion that keeps Marra energized about his work.
In 2018, he collaborated with the conservation team to help create a habitat for the great Pacific octopus that currently lives at the National Aquarium. The exhibit had to look like it was from the Pacific Northwest, where the octopus's native habitat is, and had to provide intellectual enrichment and stimulation. To do that, Marra helped to create lifelike "action figures" of Dungeness crabs and other objects for the aquarium staff to fill with crabmeat for the octopus to discover. "Each one was a different puzzle," he says.
Finding that balance of work and pleasure can be a tricky puzzle to many people, but not to Marra. "This job is almost everything I have done rolled into one—I'm very lucky to do what I do."
Much like Marra, Spiegelman is working to merge her pastime with a full-time career. Last year, she created an event for the Walters Museum on "The Art of Ice Cream," with flavors inspired by the museum's collection. She and her blog were also featured on NPR's The Salt. She is currently in graduate school at Boston University pursuing a master's in gastronomy, while working in a bakery and giving food tours of Boston to support herself and her blog.
"I'm continuously surprised that people love the idea of merging history with food," she says. "The reason I started A Sweet History was to get to my passion—history. Ice cream makes it more accessible."
(Photo at top, clockwise from left): John Marra at the National Aquarium, Hannah Spiegelman's ice cream, and Elizabeth Elliott's artists' books