Continuing education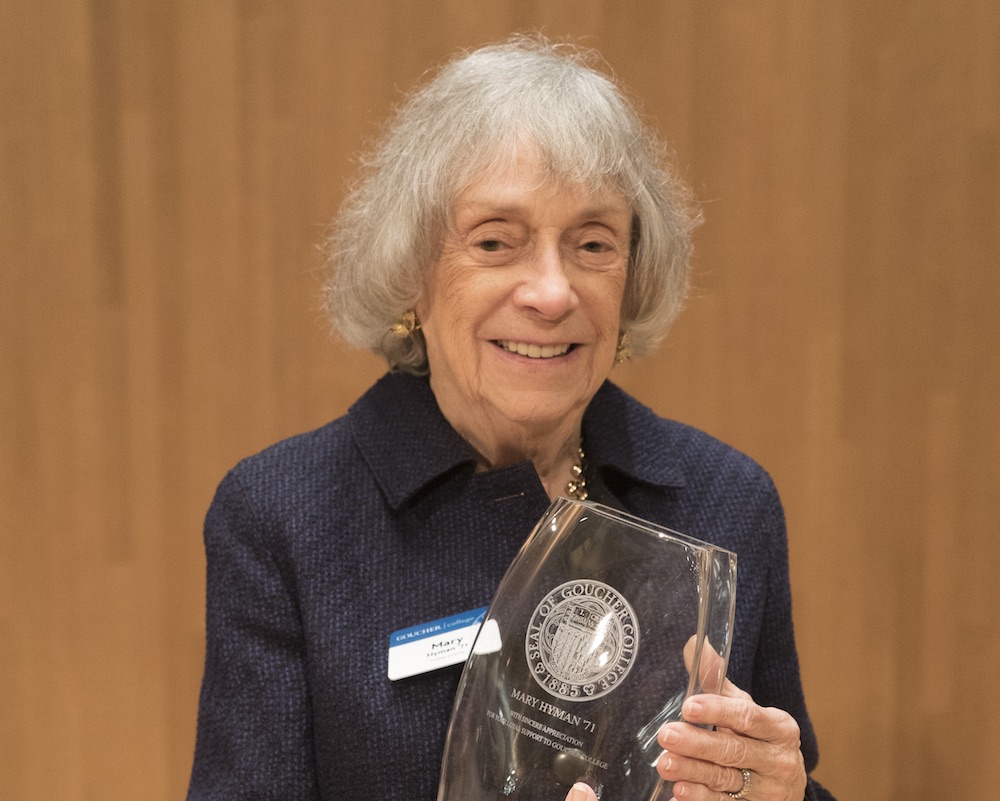 For Mary Bloom Hyman '71, learning is a lifelong journey
The shelves of Mary Hyman '71's home are stacked with books, the walls crowded with art. The tract house, nestled in a wooded area of Baltimore County, has grown with her through
the years, and she leads a visitor through the rooms, delivering an art history lesson as she goes. Recently retired from Loyola College, Hyman gives no sign that her lifelong commitment to education—both her own and others'—is slowing down.
In October, the Sigmund M. Hyman Foundation, which Mary B. Hyman heads, announced a $2.5 million bequest to Goucher that will support merit scholarships, improvements to science facilities, and student-faculty research.
"We are so grateful for her vision and her philanthropy," says Goucher President José Bowen. "She has helped us become the innovative model for the liberal arts that we truly want to be."
Her gift stems from the same belief in education that brought her to Goucher. Hyman had left college in Boston after a year and a half to get married in Baltimore and raise two children. Once her daughters were grown, though, she felt she'd missed out.
"I got really upset about it," she recalls. "I wanted to be educated. I wasn't getting any intellectual stimulation, and I didn't feel part of the community.
I couldn't analyze things. I like to be, as best I can, up-to-date. Informed. And sort of challenged."
Most women's schools didn't admit married women but Goucher, despite its old-fashioned trappings of white gloves and tea parties, had applied for a grant specifically to influence women to return to college. Hyman took the classes Goucher offered: modern diplomatic history, genetics, and short story writing.
"And I loved it," she says. "I went back to the dean and said 'Can I enroll?'" She could and did, graduating Phi Beta Kappa with a major in sociology. "It was fabulous," she says, "and they were much more forward thinking than all the other places that just didn't even concern themselves. Goucher, through the years, tries things out. They'll take a chance when they see a need."
Hyman went on to get a master's degree in adult education at Johns Hopkins. Through a Goucher connection, she landed a job at the Maryland Science Center, where she stayed for two decades, becoming the director of education. While there, she became involved with Johns Hopkins' Center for Talented Youth (where she is still on the board), designing the first science curriculum for the center's summer programs. She loved the Science Center, she says, but working weekends and holidays became a drag. A Loyola professor who volunteered at the center put her on to a job at his school, and she began a 26-year stint at the Jesuit university, which she retired from in September as the coordinator of science education programs and the Institute for Childcare Education.
Interacting with the public at the Science Center left Hyman with an unease about the state of science education. "I've always liked science," she says, "and I worry about the fact that there's so little science literacy."
To that end, the Hyman Foundation has recently supported science education not only at Goucher, but at Loyola and at Franklin and Marshall College, where the late Sigmund Hyman was a graduate and longtime trustee.
And Mary Hyman's own education continues as well. Since retiring in September, she's been taking two classes at Johns Hopkins—comparative monotheistic religion and screenwriting.