Coach Kozak ready for the next set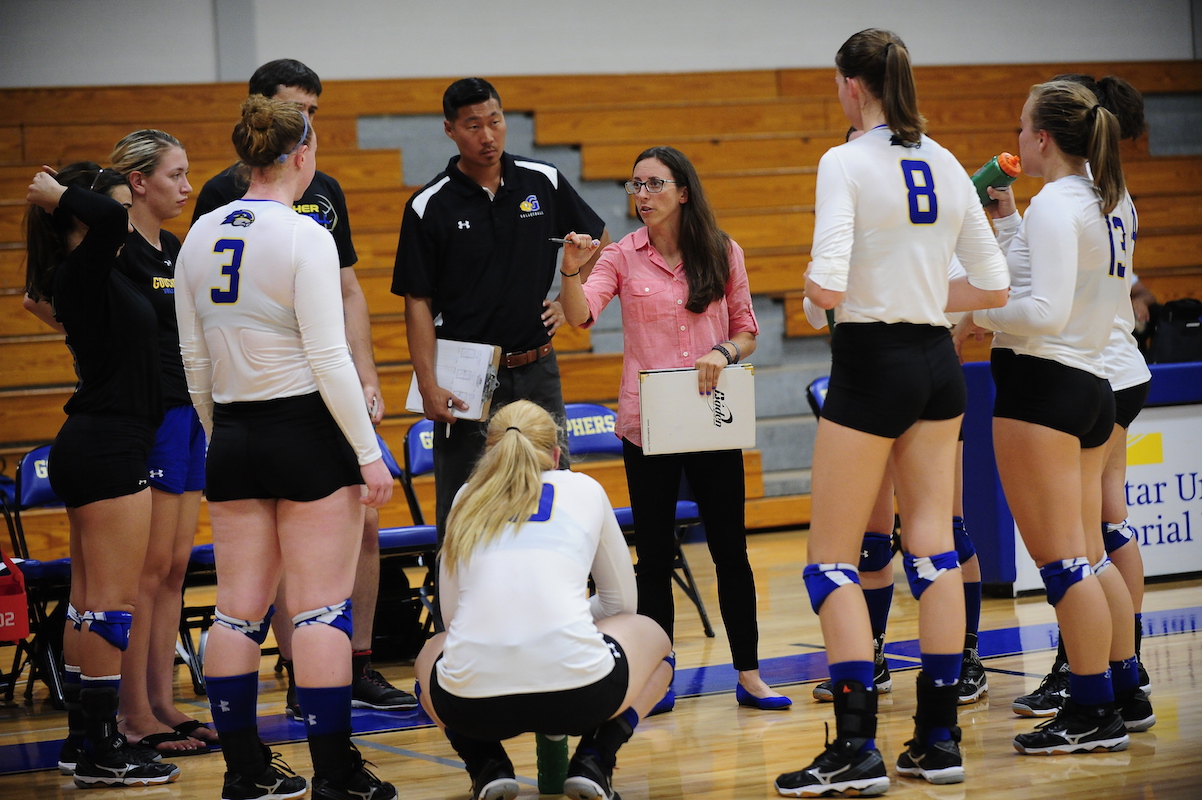 By Brandon Harrison
Head Coach Kait Kozak is heading into her second season at the helm of the Goucher College women's volleyball program.
Kozak entered her first year with the Gophers with an impressive track record of building winning teams. She comes to Goucher after five years as an assistant coach with the U.S. Naval Academy alongside head coach Larry Bock—the winningest coach in NCAA volleyball history.
"The team will be very different next year and so it is hard to pinpoint what our focus will be in 2017," said Kozak. "I expect us to continue to focus on relationship building, growth, and resiliency—the building blocks of our program. The team will be young and that means they will need a lot of guidance and direction. Leadership from the upperclassmen will be important."
During her first season, the Gophers posted a 1-5 record in conference play and 7-19 record overall. "The 2016 season was a huge success in my eyes despite our circumstances and results," she says. "The culture of the program was established, the players developed new skills, and the team improved collectively. Results are important, but they don't always measure progress, and that is something I have to remind myself and the team of daily."
"Coach Kozak is transforming the lives of these women," said Dr. José Antonio Bowen, Goucher College President. "They grew enormously as players and as people."
While working with the Naval Academy program, Kozak was the first assistant and had a hand in all aspects of day-to-day operations, including recruiting, player development, strength and conditioning, marketing, alumni relations, and other administrative duties.
In five years at Navy, Kozak helped turn around the Midshipmen program from a six-win team in 2011 into a Patriot League Championship finalist in 2014. That year, Navy tallied an 11-5 record in conference play, posting their first winning season since 2008.
Kozak also showed the ability to get the most out of her players, helping guide individuals to five All-Patriot league honors. She coached a pair of All-Conference honorees in 2012, marking the first the school had seen since 2005.
"I value hard work and dedication. Athletes who are willing to learn, fail in the process, and continue forward despite challenges are really important to me and the growth of the program. Also, every team can benefit from athletes who are positive and opportunity oriented. There is nothing better than having a group of young women who view challenges as opportunities, and support one another through the process."
Prior to her time with Navy, Kozak spent her first stint head coaching with Western New England University. In just her first season at the helm of the Golden Bears, Kozak improved the team's record by nine games, tallying a program-best regular season mark of 26-9 in 2009. She led the Golden Bears to the Commonwealth Coast Conference (CCC) Tournament Championship final that season, before leading Western New England to the Eastern College Athletic Conference DIII New England Regional Championships. In turn, Kozak was named the CCC Coach of the Year.
In two seasons with the Golden Bears, a total of nine athletes under Kozak's direction were named All-Conference selections, including 2009 Libero of the Year Marci Egbert.
A four-year letter winner and team captain, Kozak earned a bachelor of science degree from the University of Miami in sport administration in 2006, before going on to earn a masters of education in counseling psychology and student personnel administration from Springfield College in 2008. Following her time at Springfield, she worked at the University of Oregon where she served as the student-athlete coordinator, specializing in career development, community service management, and leadership development. While at Oregon, the NCAA honored the program with the National NCAA SAAC Award.