Celebrating the achievements of Goucher alumnae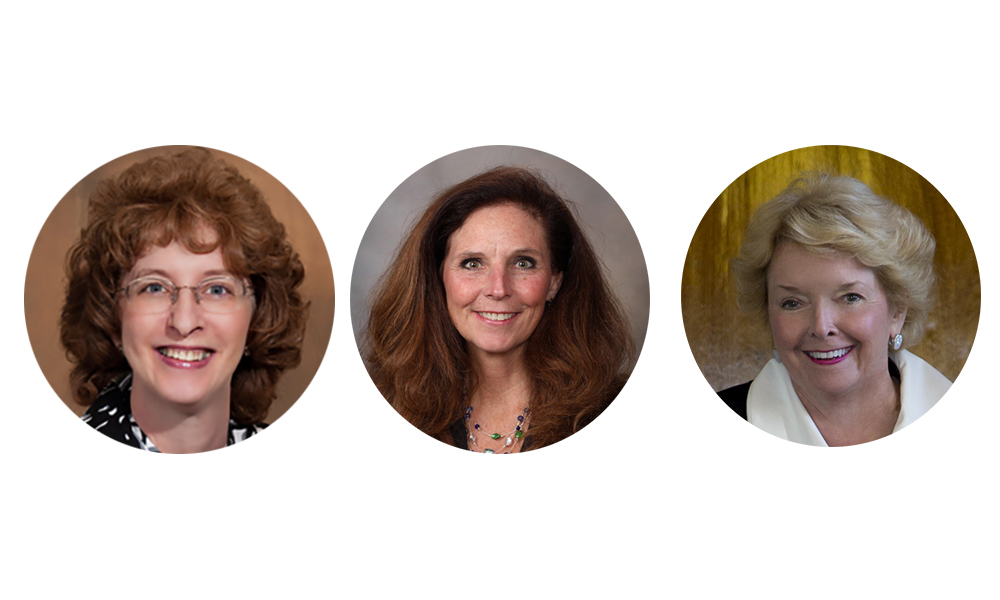 Dr. Linda Himmelberger '74, Goucher trustee and former president of the Alumnae and Alumni of Goucher College (AAGC), can add another line to her resume, as a newly installed trustee of the 161,000-member American Dental Association (ADA).
A general dentist in Pennsylvania for more than 35 years, Himmelberger has served the ADA in other capacities—as a member of their governing House of Delegates, and on task forces, councils, and committees, and has been president, vice-president, and secretary of the Pennsylvania Dental Association (PDA). She also served as a member of PDA's "Go Team," assisting in the identification of victims of three major airplane crashes, including those of United Flight 93 in September 2001.
In a 2016 email interview with Goucher Magazine, Himmelberger wrote that "Goucher prepared me for my career and for my life by being the best of what a liberal arts college should be, teaching not only 'facts' (which are critical for a science major), but also problem-solving, critical thinking, and a thirst for knowledge and understanding."
Dr. Amy Williams '80 received the Mayo Clinic doctors society's 2017 Lifetime Achievement Award in October of last year. Williams is the chair of the Department of Internal Medicine at Mayo Clinic in Rochester, MN.
Williams received her M.D. from Case Western Reserve University in Cleveland, OH. She completed an internship and residency in internal medicine at Mayo Clinic School
of Graduate Medical Education, where she subsequently completed fellowships and postgraduate training in nephrology. Dr. Williams received numerous honors and awards throughout her training and career, including the Schultz Award in Cardiology, induction into Alpha Omega Alpha honors society at Case Western Reserve University School of Medicine, and the Excellence in Teaching Recognition at Mayo Clinic School of Medicine.
In a statement, the society called Williams "an outstanding Mayo Clinic colleague and Mayo alumnus who helps sustain the enduring values and ideals of Mayo Clinic. We are grateful for her exceptional work and dedication to the mission of Mayo Clinic."
California State University San Marcos President Dr. Karen Czarnecki Haynes '68 has been honored as a National Association of Social Workers (NASW) Pioneer.
The Social Work Pioneer Program was created to honor members of the social work profession who have contributed to the evolution and enrichment of the profession. The Pioneer Program identifies and recognizes individuals whose unique dedication, commitment, and determination have improved social and human conditions.
NASW Pioneers are considered role models for future generations of social workers. Their contributions are reflected in every aspect of the profession, as well as in the establishment of social policies and human services programs. The NASW is the largest membership organization of professional social workers in the world with 132,000 members.
Drawing upon her experience as a social worker, Haynes has long championed higher education as an engine of social mobility and regional prosperity. A first-generation college student, Haynes holds both a doctorate in social work from the University of Texas in Austin and a master's in social work from McGill University in Montreal.