Career connections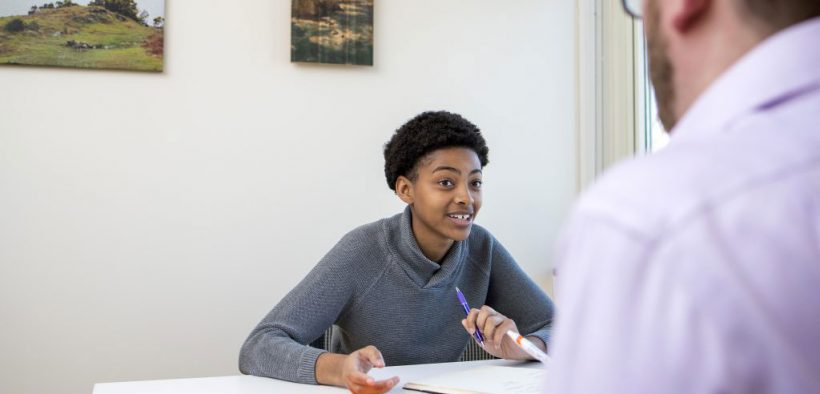 Goucher Advantage in Action
By Tara de Souza
Getting a job after college can be daunting. There is the worry about which jobs to pursue, the challenge of underemployment and paying off student loans, and whether or not your resume includes enough experience.
To better prepare students for professional success, Goucher officially launched the Goucher Advantage last fall, which integrates career education directly into the curriculum and into students' lives. The Career Education Office (CEO) is spearheading this new approach that makes career education mandatory for all students—a visit to the career center is no longer optional. This all-in model makes career education a central part of every Goucher student's experience.
"It is hard work figuring out what you want to do and what your interests are," says Traci Martin, executive director of the CEO. "We want students to understand that this program and our team can support them in figuring out this information and how to develop a plan to connect these interests to careers."
The Goucher Advantage bolsters students with career services, graduate school preparation, and networking opportunities. The program focuses on five key pillars: self-knowledge and personal branding; career communities; career management skills; professional experience; and alumnae/i connections.
"We want students to begin asking, 'How do I spend my time gaining experiences that I can share on my resume?'" says Martin.
The starting point for all first-year students is the required writing course. CEO staff teach the resume writing section of the class, covering concepts, content, and format. The First-Year Seminar now includes a class to help students explore their interests, learn how their interests can guide career choices, and gather information about resources available as they implement their career plans.
From dance and English capstones to psychology courses dedicated to exploring professions in the field, Martin says she and her team partner with faculty to take a very strategic approach to integrate career education in the classroom.
Professor Jennifer McCabe says psychology majors are now required to take two courses in professional development to better cultivate a cohort of students with a focus on career paths and graduate school. She notes that the student reaction to the career courses and structured experience has been very positive.
"We want our students to find a sense of purpose and mission, not just in relation to coursework but also in relation to life after graduation," says McCabe.
At Goucher, a student's educational journey includes self-discovery and reflection, both of which are critical components of the new careers program and ultimately build confidence and credentials for students.
"We are trying not only to provide them with content but also engage them with the process," says Martin. "Our career communities give Goucher students a home from which to explore career options and meet people with shared interests."
Through career communities forming in 2019, she wants students to understand the benefit of connecting with other students, faculty, staff, and parents interested in similar careers. The program also emphasizes networking with alumnae/i and employers who can provide guidance and support to students as they start their careers.
The new job shadow initiative, "Take a Gopher to Work Day," launching over winter break will help bridge the connection from classroom to career by pairing alumnae/i volunteers from around the U.S. with students interested in that field of study.
A trial run of the one-day program took place during spring break 2018 with 25 matches of students and alumnae/i. It was a huge success.
Casey Miller, associate director of alumnae/i career programming, says that students who were interested but apprehensive of the career exploration process before Take a Gopher to Work Day ended up loving the experience because of the ability to ask lots of questions with the alumnae/i.
Students shadowed professionals in varied industries around the country, from a creative design agency in New York to a classroom in San Francisco. One student even had the chance to meet former United States Secretary of Homeland Security Tom Ridge while shadowing an alumnus in Washington, DC.
"I want students to feel comfortable exploring people and companies that they never knew before," says Miller.
These experiences are critical to career preparation, and the CEO has worked to connect Goucher alumnae/i and students in a number of programs over the past year. Coffee Chats and Tuesday Teas offer students the opportunity to meet with parents and alumnae/i informally at the newly formed Exploration Hub.
In one centralized space, the Hub brings together the CEO, Office of International Studies (OIS), and Community-Based Learning (CBL) to offer integrative experiential learning opportunities. The Hub staff is available to help students make informed choices about internships, where they can study abroad, and which CBL program could better support their educational experience. The Hub also offers weekly Open Studio sessions like "Discover What Drives You" and "Uncover Your Talents."
Whether it is getting students to alumnae/i work sites or hosting them in classrooms, the student-alumnae/i connections support the hands-on learning approach that Goucher emphasizes and provides a foundation for success after graduation. Miller says that hearing alumnae/i talk about their Goucher-to-work story helps students understand that a career path is not always linear.
"The Goucher Advantage is all about creating opportunities for students to engage in career exploration before senior year," says Miller. "Take a Gopher to Work Day and other alumnae/i career programs offer a low-risk way for students to step into the world of work and get a glimpse of their future career while doing it with someone from Goucher supporting them."
Martin says the initial feedback she has received from students is overwhelmingly positive, and hopes to be giving them a real advantage in securing a meaningful job and living a life of purpose.
Ways to Get Involved
Jenn Hervy '96 is the vice president for human resources at ConnectYourCare and has volunteered as a Take a Gopher to Work Day mentor, as well as participated in numerous Coffee Chats.
"It is exciting for me as an alum because the students I have met with are really engaged when I am there," says Hervy. "A lot of students are looking for advice, and I get the sense that having an alum's opinion is something that the students appreciate."