Goucher Today: Campus News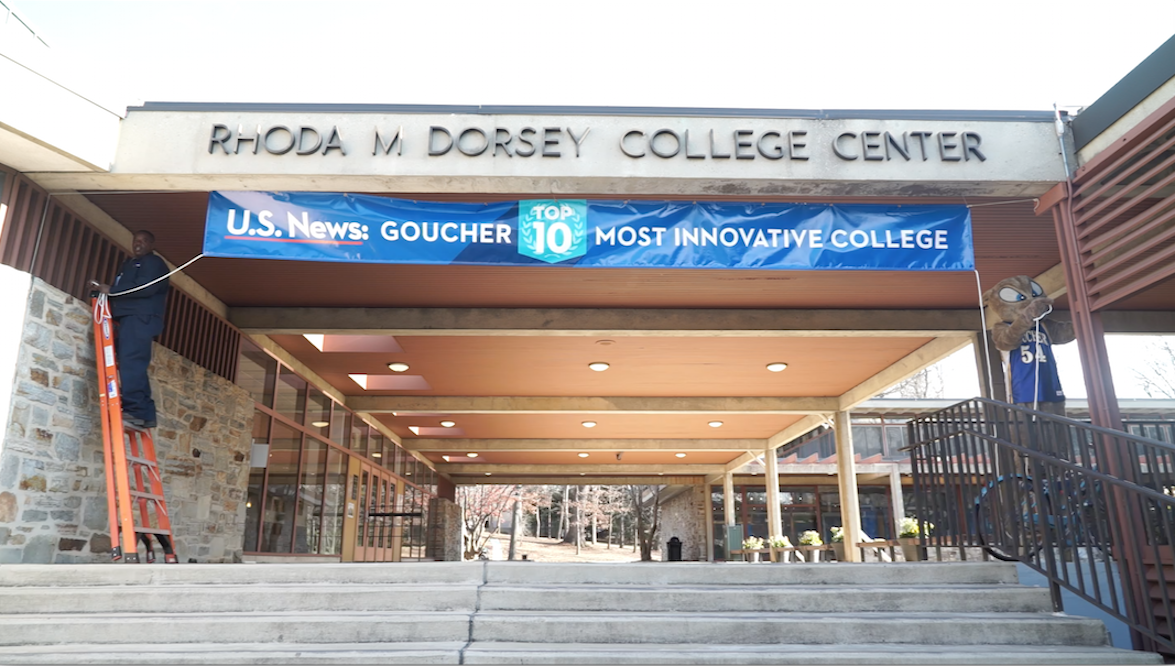 Bragging Rights for Goucher Grads
There are lots of reasons for Goucher graduates to be proud, like going to one of the nation's top-rated private liberal arts colleges.
Goucher ranked No. 6 on U.S. News & World Report's new national list of "Most Innovative Schools" for making the most forward-thinking improvements in curriculum, faculty, students, campus life, technology, or facilities.
Other top U.S. News rankings include lists for "High School Counselor Rankings," "A+ Schools for B Students," and "Best Schools for Veterans," and Goucher was included as a standout college for economic diversity, largest need-based financial aid packages, campus ethnic diversity, highest percentages of international students, and highest proportion of classes with fewer than 20 students.
Goucher's Welch Center for Graduate and Professional Studies also was highlighted by U.S. News for having one of the best online master's in business degree programs.
Goucher is still No. 1 on U.S. News' list for the colleges with the most students studying abroad, and it topped Christian Science Monitor's list of the 10 most globally minded schools.
The college was once again included in The Princeton Review's The Best 380 Colleges. It also was named one of best institutions in the Northeast and was highlighted for its study abroad program and commitment to environmental sustainability.
College-matching platform College Raptor recognized Goucher as one of its 44 gem U.S. colleges and universities, high-caliber institutions based on graduation rate, selectivity, and student-to-faculty ratio.
Goucher was again included in The Fiske Guide to Colleges, a compendium of 300 select colleges and universities deemed to be the "best and most interesting" institutions of higher education.
Goucher Parent Council Sets Goals
The recently formed Parent Council held its first meeting in October, during Family Weekend. Council members, whose home bases span the country from Los Angeles to New York City, support Goucher College through philanthropy, ambassadorship, and connection. Members are: Mohammad and Marjan Anvari P'17, Robert Awkward and Beverly Edgehill-Awkward P'18, Frank and Deborah Corbishley P'18, Daisy and Brian Detwiler P'18, Kenneth and Fern DuBow P'15/P'16, David and Cathy Hirsch P'17, Hal and Barbara Hubschman P'16, Leslie and Robin Kieffer P'18, Roger and Cheryl Lerner P'18, and Gail Plucker and Robert Webb P'17. Richard and Nan Davis P'18 co-chair the council. Richard Davis was also recently elected to serve on the Goucher College Board of Trustees. For more information about the group, visit the Goucher Parent Council website.
Mentor a Fellow Gopher
We know our graduates have gone on to do amazing things. Goucher's Career Development Office wants to connect alums from the greater community with our students through the Goucher Alumnae/i Career Coaches Program. With your help, students can begin to expand their roster of professional contacts for networking and learn about career fields they might not have considered.
Associate Director for Alumnae/i Career Programming Casey Miller, who launched the program last semester, said mentoring can be a powerful force for both a mentee and mentor. "I think mentors enjoy this program because it gives them a chance to meet students where they are and help them find answers to those tricky questions." For more information on how you can get involved, contact Miller at 410-337-3031 or casey.miller@goucher.edu.