Betty Overington Knupp '67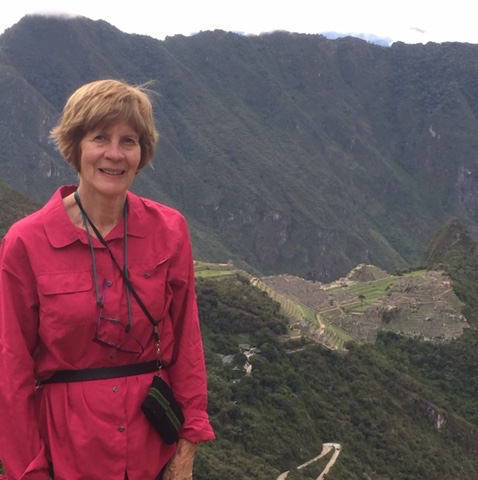 AAGC Award for Excellence in Public Service Winner
By Molly Englund
When Betty Overington Knupp '67 was reached by cell phone this past March, she was on a boat off the coast of Cumberland Island, Georgia, exploring the local wildlife. Could she call back?
Back on the mainland that afternoon, Knupp, winner of the AAGC 2017 Award for Excellence in Public Service, reflected on her career in arts education and how she has entwined it with a life of travel.
Knupp's love of art first formed in her dorm room at Goucher. Her first- year roommate had gone to France the previous summer and come back smitten with the French Impressionists. The two decorated their room with Monet posters. Then when Knupp, a political science major, finished college, she went on her own Goucher-sponsored trip to Europe. "I spent that whole summer after my graduation in 1967 visiting art museums and churches. I got really excited about art," she said.
After interning with the Civil Rights Division of the Department of Justice, Knupp was hired there full time as a research analyst. (The internship was thanks to Goucher's Political Science Department, which had set up a formal internship program—an almost unheard of concept in the late 1960s.) She was later promoted to supervisor, and found the work in civil rights very rewarding.
But art would continue to tug at her attentions. She and her husband, John, had four sons, and Knupp decided to volunteer at their elementary school. She created the Picture People Program, which brought parents into the classrooms to teach children about famous artists and their paintings. "I found that so much fun because you could see how children could be very excited about really exploring a painting in-depth," she said.
It was so much fun that she didn't want to stop after her kids left elementary school. She began teaching an art appreciation class at Ginger Cove, a retirement community in Annapolis, and then added another one at her church. Knupp also contacted Anne Arundel Community College and began teaching a class for senior adults through its continuing education program. The college gave her another class, then another, and pretty soon she was teaching seven classes a week, a career that spanned 25 years.
Knupp also planned trips for all her classes—to Paris and the Loire Valley when they studied French art, to Italy when covering Italian Renaissance and Baroque art, and to Holland for Dutch paintings.
"I got so if I wanted to go someplace, I would plan a trip there and teach a course," she said. Her husband jokes that her classes were so popular because of her fabulous trips. Knupp took care
of everything, so seniors could have a carefree time visiting museums, churches, historic houses, and gardens around Europe and the U.S. She made over 20 trips to Europe alone.
An avid gardener, Knupp volunteers in the gardens of her church, a children's museum, and a senior center. She's also worked with the Anne Arundel Literacy Council, teaching an adult man with two young sons how to read, and co-founded the South County Concert Association, bringing music to the Annapolis area. She has served on its board for 42 years.
She's retired from teaching now, with more time to spend reading, gardening, and with her large family. And she's still planning trips. On a recent one to Machu Picchu with her sister, Knupp prevented a fall by bracing against an Incan stone wall. She fractured her hand, but that wasn't going to slow her down. "At least it was my hand and not my foot," she said. "So I could keep going."
Betty Overington Knupp '67 will be presented with Goucher's AAGC 2017 Award for Excellence in Public Service on Saturday, April 29 (Alumnae/i Weekend) during the AAGC Annual Meeting and Presidential Update. This annual award is conferred on alumnae/i who demonstrate outstanding commitment and leadership in public service.