Barbara Roswell digs deep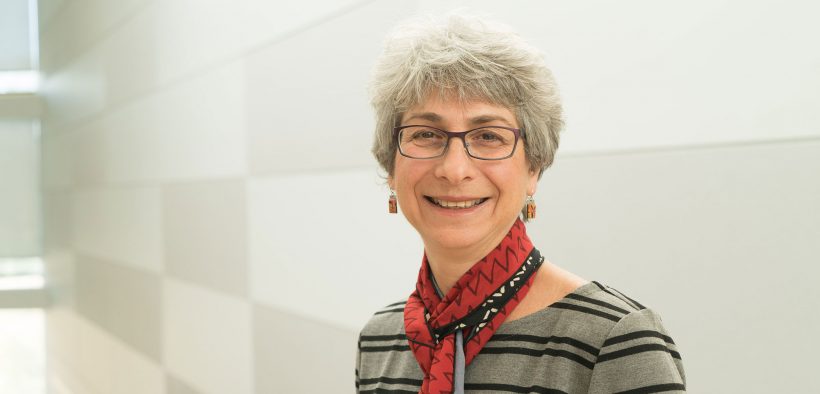 The semi-retired professor keeps going
By Molly Englund
A writer, in writing a story about another writer, might be inclined to start by saying that Barbara Roswell is all about the journey, not the destination. But that's the kind of opening sentence that people like Barbara Roswell know to avoid.
Let's instead speak plainly: Barbara Roswell loves to watch people transform.
Roswell grew up in the Bronx, and then earned degrees at Yale and NYU. She was already teaching at Goucher when she completed a Ph.D. in rhetoric and composition (or, as it was called then, the Program in Writing) from UPenn.
Although she has published four books and many articles, it's all in service to her real passion: teaching. "I'm someone who knew for a long time that I wanted to teach," she said. "I was driven more by the discipline of teaching than by a particular subject matter." In fact, much of her scholarship is around learning, and her passion for it has profoundly changed the college.
For years, Roswell edited a national academic journal on service learning and community literacy called Reflections. Reflections was the second journal ever to be devoted to the topic. Knowing they were on the cutting edge of scholarship emboldened Roswell to take on big projects. She wanted to do a special issue on prison writing.
When the issue came out in 2004, a DC-based judge read it and offered to start a book club at the Maryland Correctional Institution for Women. Roswell and six colleagues agreed and suggested they do more. They wanted to go in and run a writing workshop together. Thirteen years later, both the book club and the workshop are still ongoing. Roswell and her colleagues didn't stop there, though. They formed a nonprofit dedicated to teaching a full curriculum of college classes at the prison. Anne Arundel Community College agreed to be the certifying institution, but the Goucher professors were the ones who created the curriculum and taught the classes.
They kept going. Roswell took the lead and, with others, secured a grant from the Bard Prison Initiative to create the Goucher Prison Education Partnership, or GPEP. Roswell was its first director. The partnership has grown up a lot since then; Goucher now offers an American studies major to over 130 students in both the men's and women's prisons in Jessup. And although she retired from Goucher at the end of the 2018 academic year, Roswell is still teaching through GPEP. Last semester, she taught Writing Studies, which, she said, is "an introduction to academic writing and to thinking about how we learn, how we write, and how we study writing."
The course gets at many of her interests. For years, she directed the First Year Seminar Program, the Writing Center, the Writing Program, and Writing Across the Curriculum at Goucher, now called the Writing Enriched Curriculum, which is made up of courses to help students be more intentional about writing throughout their college career. "Writing has been identified as a high impact practice," Roswell said. "If you have two courses that are identical, except in one students are doing more writing, they'll learn more and they'll remember it better. Writing deepens the impact of any class, any time."
She has been involved in so many programs at Goucher, and in the community, in her 35 years with the college. We've only scratched the surface of Barbara Roswell. Imagine how much deeper she goes.