Art, animals, and advocacy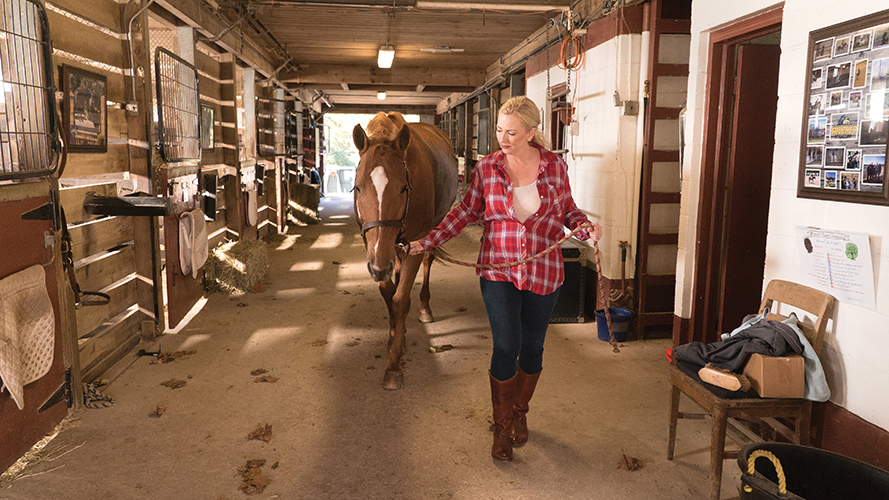 Kimberly Bowen works to support the Goucher community
By Tara De Souza
Kimberly Bowen, Goucher's "first lady," sits in the art-filled living room of the President's House as her cat, Annabel Lee—named after Edgar Allan Poe's final completed poem—jumps up onto her lap. "We love our rescues," she says brightly.
A long-time animal rescue supporter, her love of animals permeates much of what she does. A few months after her and President Bowen's beloved dog Chloe died, she drove 18 hours round-trip to rescue their new collie, Riley, and she buys 10 pounds of carrots each time she goes to the market to feed to the horses in the equestrian stables.
A Texas native, Bowen worked for more than two decades in aerospace manufacturing. At Goucher, she is primarily an advocate and over the last three-and-a-half years has applied herself to important causes both on and off campus. "I'm here to support José, the students, faculty, coaches, parents, and everyone else in our community."
One of her priorities is actively supporting current students. Students email her to invite her to coffee, classes, performances, and games, and she looks forward to the annual display of senior projects. "I spend all day there."
Soon after she moved to campus, Bowen was invited to Professor Cynthia Kicklighter's biology class to see a presentation of a student's trip to Honduras. That invitation stands out because it was the first time Bowen learned about lettuce sea slugs.
One of Bowen's favorite subjects is art. She sees the entire campus as a classroom and, as a member of the Goucher Art Committee, she believes art should be accessible and belongs everywhere. Along with the bright yellow sculpture by former Goucher faculty member Mary Ann Mears in front of Dorsey Center and Kraushaar Auditorium and the black and white photography by Rosalind Fox Solomon '51 in Pagliaro Selz Hall, Bowen also hopes to have art installed in the new Mary Fisher Dining Hall.
"Art is meant to be seen," she says. "I think it's important to live with it because it really can influence how you view the world and experience life."
Bowen also worked closely with a dedicated group of Goucher faculty and staff to secure many of Jean Flah Silber '54 and Sidney Silber's sculptures to adorn the campus. One of the greatest moments from her time on campus so far is when she sees students taking selfies with the Silber sculptures: "It makes me so happy."
To Bowen, "art is magical." She tried to create that magic for children at a battered women's shelter where she volunteered for many years in Dallas. Now she is working to make art classrooms and studios more accessible in underserved communities through her advisory board member position with the Baltimore County Arts Guild.
Bowen also is a commissioner on the Baltimore County Commission for Women, where she chairs the subcommittee focusing on human trafficking in Baltimore County. Her work on that committee includes investigating issues, making recommendations, and informing the public about the resources available to help those who are trafficked and to spot those who are trafficking others.
Part of her work as a commissioner is to bring awareness to the issues on which she is working. Last fall, she collaborated with Cass Freedland, director of community-based learning, and Seble Dawit, associate professor of peace studies, to host the director of Baltimore County Health and Human Services, the Baltimore County state's attorney, and other speakers for a human trafficking event hosted at Goucher for students and the community.
"My goal is education and awareness. It was important to bring this event to Goucher because many of these victims are the same age as our students."
Earlier this year, President Bowen extended his contract to remain at Goucher for at least another five years. This will allow Ms. Bowen to continue her efforts on and off campus to improve and support the community, as well as to pursue the projects about which she is most passionate, including raising funds for the new equestrian facility.
She is now a member of the Equestrian Fundraising Committee and says, "We need facilities that can accommodate and match our talent and will enable us to attract others." Her fondness of animals was a natural fit for the Equestrian Program.
Back at home, the new puppy, Riley, can be heard barking in the yard. The three presidential dogs, Riley, Chelsea, and Molly, can be signed out and walked by any student on campus and they have their own popular social media accounts. Sharing the family pets with the Goucher community underscores the Bowens' approachability, as well as the sense of trust they share with the community. In their backyard, there are only a limited number of rules on the whiteboard dog walking sign-out sheet, including having the dogs home before dark and not feeding the dogs.
"Not feeding the dogs is only a rule because someone once gave them Doritos. The cheese powder in their fur was the giveaway," she laughs.