Andrew Ervin '93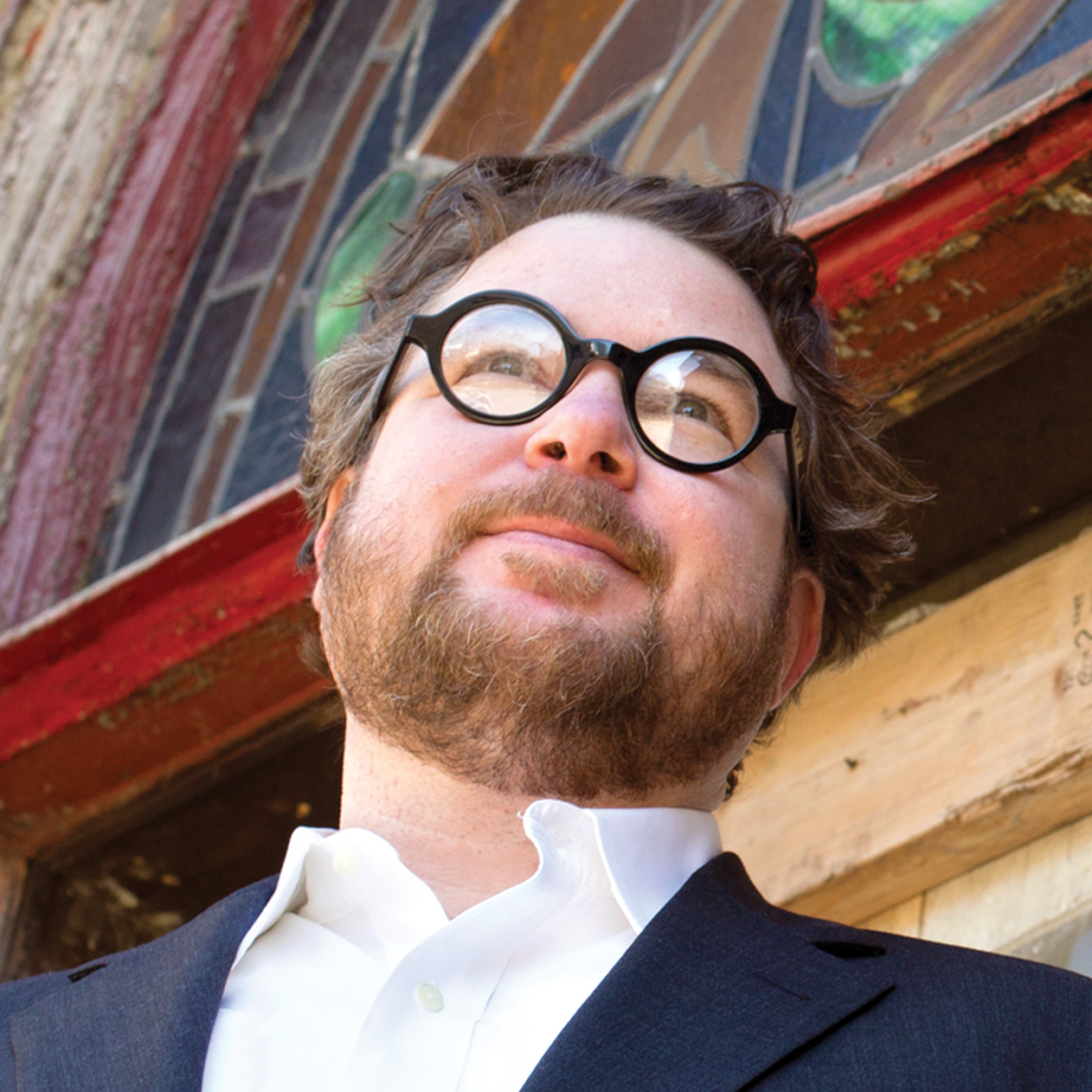 Goucher's Spring 2016 Kratz Center Writer-in-Residence
Sometimes when Andrew Ervin '93 begins to read aloud from his novel, Burning Down George Orwell's House, his listeners respond by tossing back shots of scotch.
Ervin's OK with this. After all, his novel, which was published last year, is peppered with lyrical odes to the drink, such as:
He passed over a flask that contained a whisky so delicious it might have come from the Virgin Mary's own tender nipples and been used to suckle the baby Jesus in his downy crib as mother and child were serenaded by a host of angels.
Although the author, who this spring was Goucher's 2016 Kratz Center writerin- residence, swears he's not that much of a connoisseur, references to scotch have become "kind of a running joke" among his fans. For example, during Ervin's reading at Politics and Prose in Washington, D.C., the bookstore's management passed around a bottle of single malt, and in a New York Times review, the writer dubbed the book, "a wee bonnie dram of a tale."
Set on the same Scottish island where George Orwell wrote his seminal work Nineteen Eighty-Four, Ervin's novel is a meditation on how prescient Orwell's imaginings turned out to be. In it, Ervin tells the tale of Ray Welter, an ad executive who grows tired of the rat race and flees to an isolated village where he becomes embroiled in the lives of a cast of eccentric villagers.
The idea came to Ervin when he noticed the prevalence of Orwellian references in pop culture. "Every day there were references to our browsing histories, our phone calls, the reality show called Big Brother—what is going on today is not precisely what he wrote about, but the principles are strangely accurate," says the author, whose first book, Extraordinary Renditions, was listed in 2010 by Publishers' Weekly as one of that year's best.
At Goucher, Ervin, who grew up in Media, Pennsylvania, majored in religion and philosophy and took a creative writing class taught by author Madison Smartt Bell and poet Elizabeth Spires, who are co-directors of the Kratz Center for Creative Writing. (The first story Ervin ever had published was based upon a manuscript from that class.)
"I knew I wanted to be a writer, but I didn't know what that meant. I knew a lot of things that I was reading in the newspaper or magazines always sounded the same to me. I thought if I took philosophy and religion instead of English then I might have a different well to draw from," he says.
While an undergraduate, the author also met a flutist named Elivi Varga '94 in a Gamble House dorm room. "It was a Friday night, and I was listening to John Coltrane, and I left the door open, and she liked the music and just walked into my room," he says.
In 1994, Ervin followed Varga to Budapest where she was studying at the Liszt Academy of Music; while there, he worked as a writer for Budapest's Englishlanguage papers and as an English tutor. After returning to the United States, both Ervin and Varga, who were married in 1999, attended the University of Illinois Urbana-Champaign: Ervin holds a master of fine arts degree in creative writing, and Varga holds a doctorate of musical arts in flute performance. The couple now lives in Philadelphia.
Research on Ervin's current project — a nonfiction book on video games to be published next year by Basic Books — has taken him on the road. "I have visited a government lab on Long Island and played the first video game made (it was in 1958). I've talked to scholars and game makers. I've played hundreds of hours of video games. And wherever I went, I could see this is no longer a subculture," he says. "Video games may be the new baseball — the great American pastime."