Andres Zapata '98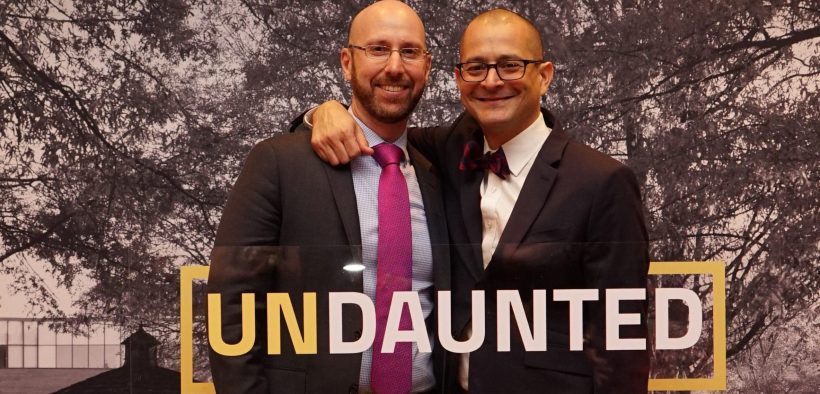 The Goucher grad found the questions he'll never stop asking
By Natalie Eastwood
Glass doors and walls are very important to Andres Zapata '98, co-founder of idfive, a marketing company in Baltimore. Transparency and collaboration speak to the essence of what he's trying to create. "There is no place to hide, and we all have the opportunity to work together," Zapata said as he walked around the office, one big, open space lined with glass rooms along the perimeter. These aren't offices in the traditional sense. They are brainstorming spaces, blank canvases to be filled by the work they do.
"Fivers" take turns giving weekly seminars in the café, which is filled with '50s style high-top tables laced with chrome. Pops of almost-eggplant purple bookend the room, including the outline of idfive on one of the few nontransparent walls.
In the middle of the office, where most fivers sit, is a lot of empty space. This is for the employees who don't yet exist. Zapata plans to increase his 40-plus staff to about 70 over the next five years.
In May, idfive moved to MICA's campus because the old office was too small, and maybe someday, this space will be, too. However, Zapata is also concerned with maintaining relationships with his team—many of whom have worked together for more than five years, when the company was fewer than 15 people. The day people start seeing him as the boss is the day idfive has gotten too big, he said.
Even so, Zapata doesn't dream small, nor does he dream for himself. He wants to do good, better. Idfive has always worked with clients that serve Baltimore and Maryland, but in March, idfive earned eight American Advertising Awards for clients who are projecting Baltimore onto the national stage.
"Idfive is a marketing communications firm that exists to amplify the good that our clients do," Zapata said. "We can't end hunger in Maryland. We can't end food insecurity. But because we're marketers, we can help nonprofits such as the Maryland Food Bank or the Johns Hopkins Bloomberg School of Public Health amplify that message and fulfill that mission. So, you won't see us go after Lexus or Nike or some big flashy brand that doesn't align with the greater good as we see it. And we know we can make the largest impact for good by working exclusively with higher education, nonprofit, health care, and local businesses partners."
Zapata seeks to make the world a better place because that's not where he started. He grew up in Castilla, Colombia, nicknamed "El Castigo" or "the Punishment." His childhood home of cement floors and hollow brick walls couldn't protect him and his family from the murders that happened in daylight, on Christmas, and to the grocery store owner three blocks from his house. His mom moved the family to Long Island when he was 11 and gave him a way out of poverty and social stratification—education.
Zapata laid down a strong foundation for a career in the medical field and spent two years at Goucher as a premed major. But the most impactful thing Goucher gave him, Zapata said, was a fearlessness to change his mind.
In his sophomore biology lab, Zapata looked around the room and realized he wasn't asking questions like his classmates, who were continuing to investigate a dissected shark well after they had finished the assignment. He wanted a major and a career where he would never stop asking questions. Zapata realized his passion was across the quad, and he found a home in the sociology and communications departments, where he double majored. There he formed perspectives of social justice and feminism that helped shape who he is today, as well as the ethos that drives idfive. This was the decision that changed his trajectory.
This was his "undaunted" moment.
Idfive created the marketing for Goucher's [UNDAUNTED] campaign. It was challenging, Zapata said, to find a common thread across such a wide spread of alumnae/i. Through their research, idfive found that regardless of age, gender, major, clubs, athletics, and personal interests, everyone experienced something at Goucher that changed their path, Zapata said.
"We came up with a couple of concepts to describe that moment of impact," he said. "The approach that embodied it the best was undaunted—we are not afraid. We realize things are going to change. We are going to stand together. We are going to move forward without fear."
Photo: Andres Zapata '98, right