Ahead of their time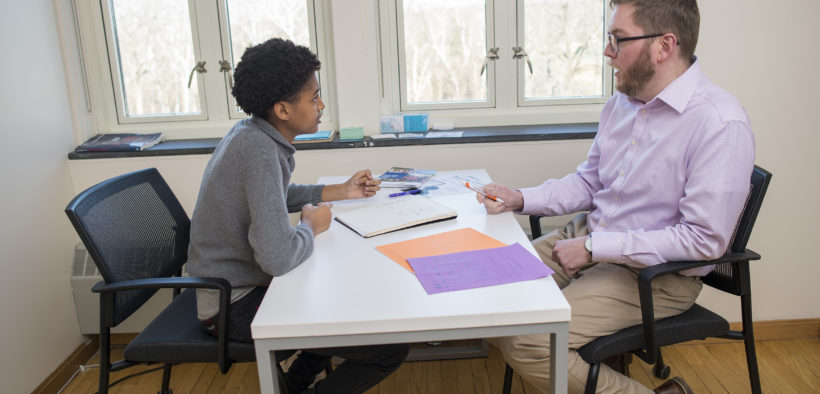 College teaches us to think, so we can learn and find answers for ourselves. There are aspects of the professional world, however, that can't be taught inside the classroom, like how to handle tricky clients or when to speak up in meetings. Enter the summer internship, a time-honored way to get experience and a foot in the door of any industry.
The recent overhaul of the Career Education Office saw the introduction of the Goucher Advantage, which makes career education a central element of each student's experience through the curriculum, mentoring, and professional experience. One highlight of the initiative is the Goucher Intern Fellowship, or GIF, which awards $2,000 stipends to qualifying students with summer internships. GIFs subsidize the opportunity, freeing students from financial obstacles that might otherwise prevent them from participating, like the need to take a second job or the cost of transportation.
And now, more Goucher students than ever are landing internships, driven by a desire for specialized career experiences they might not encounter in a more typical summer job scooping ice cream. Here are a few of their stories.
The job description from the Smithsonian Libraries Research Annex was too good to ignore, Olivia Robertson '20 says. "I remember a line, like, 'Must love the smell of books, sitting, and taking quiet notes in a room.' I thought, that's great, I can do that." She is a gift-in-hand intern there, taking the first steps to catalog donations to the library. Currently, she's working through a collection from the Culinary Historians of Washington. A double major in art history and French, with a minor in professional writing, Robertson wanted an internship that would help her start her career.
She also wanted to have fun. "It's something about working with the materials," she says. "You get to see a lot of weird stuff, notes from the original owners, things like that. It's pretty fun to interact with."
Maddie Hardy '18 just graduated with a double major in communication and media studies and environmental studies. She already has experience working in film, having co-directed a documentary, while still in school, about food apartheid in Baltimore, called Baltimore's Strange Fruit. She taught herself how to film and edit, but other facets of the process remained opaque.
Through an internship with the Television Academy Foundation, Hardy is working for Tremendous Entertainment, a production company in North Hollywood specializing in TV docuseries. She is a development intern, preparing shows to be pitched to networks. That can mean writing one-sheets, which summarize the show, or finding the right B-list celebrity to host a series. "I'm fairly self-taught," she says. "But you can't teach yourself development. You have to see it go down."
Brandon Cohen '20 relates. The business management and economics double major is interning with Morgan Stanley in the Los Angeles metro area. His boss is teaching him about wealth management and mutual funds, but he's also watching the unspoken cues. "I've been learning a lot about how people interact, face-to-face and over the phone, and the dynamic of the corporate world. That will be very valuable for me going into the future," Cohen says.
Some students are strengthening skills they didn't even expect to use. Ashlyn Appelbaum '19 majors in psychology and Spanish, and she is spending her summer interning with the Make-A-Wish Foundation's Hudson Valley chapter. As a program services intern, she works on the logistics of making the wishes come true. Being one of two Spanish speakers in the office means Appelbaum gets plenty of practice. "I've been writing letters in Spanish," she says, "and my skills have actually improved."  The internship solidified her desire for a profession that uses both her psychology knowledge and Spanish abilities, so she would love to stay and grow her career at the Make-A-Wish Foundation.
The internships run until the end of summer, but the interns are looking ahead—to school, to new jobs. They're also eager to warn other students that finding a good internship takes time, and persistence is key. Appelbaum first contacted Make-A-Wish two years ago, after her own cousin had a wish fulfilled. The organization didn't have an opening at the time, but encouraged her to keep trying. She was surprised when she finally got a call from the group this past April.
Hardy says to keep an open mind. She thought an internship with a production company was a longshot, and it ended up panning out. "It was very cool. Apply for everything. You never know when it could work out."