A thriving future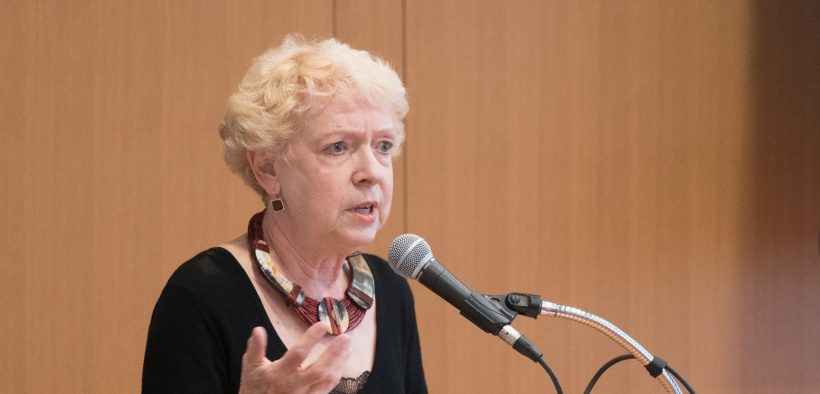 The new college historian comes full circle
By Molly Englund
When Marilyn Southard Warshawsky '68 first came to Goucher College in 1964 from her hometown on the border with New England, she wasn't that impressed with the unassuming Modernist architecture around campus. She was used to living among colonial history. But that would change.
She loved her time at Goucher. She lived in Froelicher Hall—"when it was on the other side of the loop road," she said—and made good friends. She had intended to major in French but surprised herself by testing into an upper course for Latin, even though she hadn't studied it as long as the other women at Goucher had. She struggled with the course at first.
"I went to the professor, and he said, 'You placed here. That means you can do it, so you're staying,'" she said. "So I continued to struggle, but he was such a great teacher and it was so interesting. And I wanted to learn more." Warshawsky ended up majoring in classics, studying Greek and ancient history, philosophy, political science, literature, and more.
After graduating, she taught middle and high school Latin for a few years before going to Johns Hopkins University for a master's in education.
Warshawsky turned into a polymath, tutoring through a dyslexia afterschool program, volunteering at Goucher and taking a fundraising certificate course at the college, working in development at Hopkins Hospital and School of Medicine, and starting an interior design business, among other things. She became increasingly involved at Goucher, taking up posts as a trustee, the chair of annual giving, and the president of the alumnae/i association, a position she assumed in 1991 when the school graduated its first co-ed class.
In the mid-1990s, Warshawsky worked closely with Melinda Burdette '72, who was employed by Goucher as the director of annual giving. "We were at the beginning of a capital campaign," Warshawsky said, "and it seemed an ideal time to stimulate support for both the campaign and the Alumnae/i Fund by elevating our annual giving recognition levels." The result was the creation of the Goucher Society.
Warshawsky and Burdette began highlighting the story of college founders John Franklin and Mary Fisher Goucher. "John was the one who had the vision, and Mary had the money," Warshawsky said. "So together, they were thoughtful partners." By pointing out what John and Mary "accomplished with their stewardship, leadership, and commitment," she added, she and Burdette hoped to inspire Goucher alums across generations to step forward to make a difference for their alma mater. To support the campaign, Warshawsky researched and put together a booklet on the Gouchers.
"That's where I started to learn about them," she said.
She continued to research Goucher history, and, in 2000, helped with an exhibit, called "Stone and Spirit," about the college's original and current buildings. Warshawsky learned about a national competition the college held in 1938 to create a master plan for the move from downtown to Towson; the firm Moore and Hutchins took first prize. As she learned more about their design choices, she saw how deliberately the campus had been planned, everything thought through carefully to allow for expansion and change over years. Warshawsky became captivated by the campus architecture, particularly the choice to use local Butler stone on much of it.
In 2002, while she was the chair of the Goucher Board of Trustees, Warshawsky was invited with President Sandy Ungar to speak at Aoyama Gakuin University in Tokyo, which John Goucher had helped found and support. She learned John Goucher had also been involved in starting other schools internationally in Korea, China, and India as well as supporting Morgan College, now Morgan State University, a historically black college in Baltimore. She continued to research and speak about him, and in 2016, she published a biography, John Franklin Goucher: Citizen of the World.
Warshawsky knows her Goucher history. And in the spring of 2021, the Goucher Board of Trustees announced that Warshawsky had been awarded the honor and title of college historian. "I was flabbergasted when they told me that I was being honored with this position," she said.
Part of Warshawsky's role at the college, as she sees it, is to help others discover Goucher history as the college looks to the future. The college has weathered significant challenges and crises over the years, almost closing in 1913 due to financial problems, for instance. But the people of Goucher have always worked together to solve the problems, she said.
"That doesn't mean that we have to do the same thing [to fix problems today], or that an earlier time period was better than now," said Warshawsky. "It's to be aware of our history, and to hopefully be encouraged or get ideas. I think it's inspiring that the college went through challenges in the past and survived and thrived."