A teen dream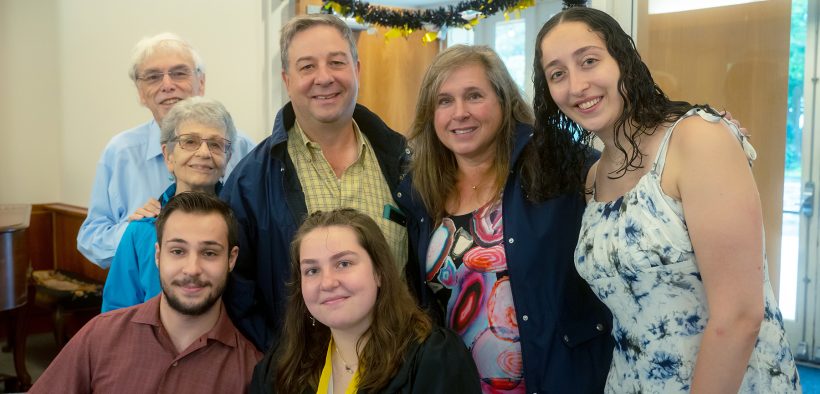 By Molly Englund
Emily Waskow '22 has a long connection with Goucher College; her father and her grandmother attended, too. But Waskow took a path entirely her own. She graduated this spring at the age of 18, after only two years at the college.
Waskow participated in a program at her Colorado high school that let her graduate at 16 with an associate degree. "I was pretty busy," she says, "but I like to stay busy. I love school; I love classes. It was fun."
For college, she applied to all the big-name schools in Colorado. She hadn't heard much about Goucher before, but she decided to tag along with her dad when he came back to do a coffee talk with students about his career as a veterinarian.
"It was the first college I toured," she says. "I loved how small the campus was; it was a really good community. And I'd heard the psych program was amazing. I knew that was what I wanted to do."
Her first semester at Goucher, however, was in the fall of 2020. She would spend her entire first year of college in Colorado, learning remotely.
She made plenty of friends, though. She met one of her best friends on the first day of virtual class. "We had a first-year seminar together," she says, where they talked through the chat function, eventually following each other on Instagram. "We've been friends ever since," she says. The two of them made friends with others in the class, and when Waskow got to campus the following year, she had a solid friend group. The biggest surprise of meeting friends and professors in person after a year on a screen was realizing how tall—or short—they were. "They were not the heights I was expecting at all," she says with a laugh.
She loved being on campus for her senior year. "It was so easy to meet new people," she says, "so it was a lot of fun."
Waskow is sad to leave behind her friends who have yet to graduate, but she has two busy years ahead of her. "I am going to be a research assistant at Boston University School of Medicine," she says, at the Center for Translational Cognitive Neuroscience. The lab focuses in part on traumatic brain injuries, such as the condition known as chronic traumatic encephalopathy, which can be caused by repeated concussions. "It happens a lot with football players," she says, "and the symptoms mimic Alzheimer's."
As a research assistant, Waskow will manage the participants, write manuscripts, analyze data, and more. After the two-year position finishes, she knows she'd like to go to graduate school, but she wants time to choose her focus.
She's always loved psychology because she's always loved people. "I came to Goucher, took my psych classes, loved it," she says, "and never considered doing anything else."
(Photo at top): Emily Waskow '22, seated at center, with family at the 2022 Commencement Legacy Breakfast