A reluctant student turns eager teacher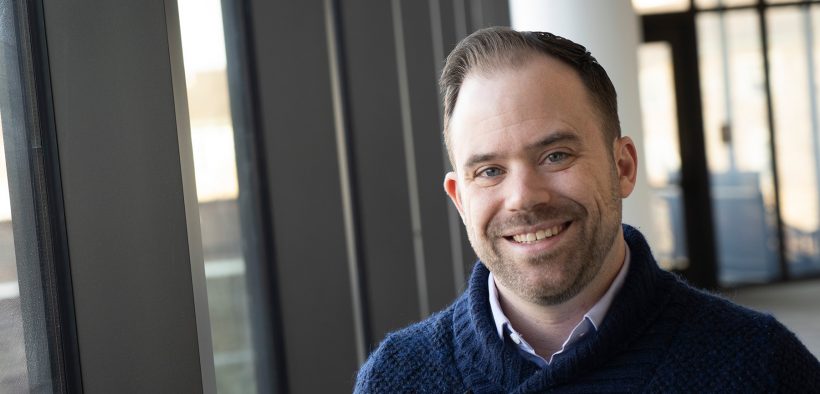 By Kailah Figueroa
Goucher is a second home to many students and alumnae/i; currently, more than 75 Goucher graduates have returned to work and teach. In this occasional series, Goucher Magazine will highlight an alumna/us working on campus.
This first installment features Brandon Arvesen '04, visiting instructor in writing studies. He reflects on how Goucher has influenced his life, both as a student and as a teacher.
What made you return to Goucher?
I went here, majored in English and education, and was teaching in Baltimore City for 12 to 13 years. I had always toyed with the idea of teaching college. I thought it would be a cool second act in my professional career. The opportunity to teach one class fell into my lap, and when I came back, I thought, "Oh, this would be cool, I'll get it on my résumé, and then I can go get a job anywhere."
[When I returned], the campus was so different. Many buildings didn't exist when I was here. Three dorms have been physically moved across campus. But the students just reminded me of all the friends I had made. It just felt the same. And I thought, "I remember being these kids." I thought, "If I'm going to teach college, I'm going to teach here."
What's your favorite spot on campus?
Honestly, I love Alice's. What's interesting about the physical space is that since we're such a small school, and now that I've been here a couple of years, there isn't a space where I won't run into students. I'll walk down those steps and hear "Brandon!" and I love that, because it's really easy to forget to leave your office if you're not teaching. Just walking to Alice's for a coffee, I'll have seven conversations down Van Meter Highway, and 10 in line for coffee, and another while I'm leaving. It just feels great to be a part of all of that.

What's something that most people don't realize about you?
I was a terrible student. A really bad high school student, so much that my parents took me out of public school and put me in a small private school. Then, I was a mediocre private school student, but I had a lot of support from teachers and a lot of pressure from my family. When I came to Goucher in 2000, my mom had always been the threat; she was like, "You better do your work or…" She wasn't here, they were three hours away in New Jersey, and I was awful. I didn't go to class. I forgot assignments were due. I was very concerned about meeting girls, and we're not a party school, but finding the equivalent of that.
I graduated and became a teacher, but it took me a while to recover from basically a semester and a half of not knowing how to be a student on my own and not feeling motivated to be one. My students don't usually know that until I see one of them doing the same things, and I'm like, "Listen, I know your tricks, all right? I see what you're going through," and I try to share that with them.
What's the first thing you do when you have free time?
On campus, I have a couch in my office, and if I have finished teaching, I sit on that couch for a minute and just let it settle. Let things be quiet in my day. Then usually, my colleague, Hannah Fenster '15, who's also an alum, will probably come by, and we'll collaborate. Might go for a walk and might end up talking and hanging out.
At home, I write a lot. And it may not sound like free time, but it's my writing. I could watch Netflix or I could get pages of my book done. It's a sacrifice. And I have a motorcycle, so I ride that when I can, to have a quiet space that's only my space. I also have a dog, so I'll wrestle with him.
Who at Goucher left the most significant impact on your life?
Dr. La Jerne Cornish '83, M.Ed. '94, P '18, she's no longer here, but she was for a long time. She was an education professor. I only took her adolescent development class because there was a girl in there I wanted to talk to and it fulfilled some other requirement. I was like, "OK, I'll take this class," and [Cornish] opened my eyes to education. I never saw myself as a teacher and she showed me that I was.
She was there for me through those four years, she was there for me as a Baltimore City teacher, as a young 20-something White man who came from a farm in New Jersey and was not ready for the experiences of Students of Color in West Baltimore, in East Baltimore, what they're going through, thinking I can save them. She took me aside and shaped me as an educator even after I graduated, saying, "The best thing you can do is teach. That's helping people the most, educate them."
When I was an adjunct here, she vouched for me to be full time and she was one of the people who said, "I taught him how to teach, I know he can do it." So she's shaped almost my entire professional life.
If you could relive one Goucher experience, what would it be?
I'll do one that's not going to get me in trouble: I was in a rockabilly band, '50s rock 'n' roll, at Goucher with a couple of other students. It was [a genre of ] music that I had no experience with and I was the drummer in the band. It was wild. It was such a strange thing. We played in the Gopher Hole, which was the coffee shop here, and people would come out and none of us thought, "Oh, maybe we'll be famous." It was so great, so wholesome. We thought we were rebellious and cool.