A Bermudian Nutcracker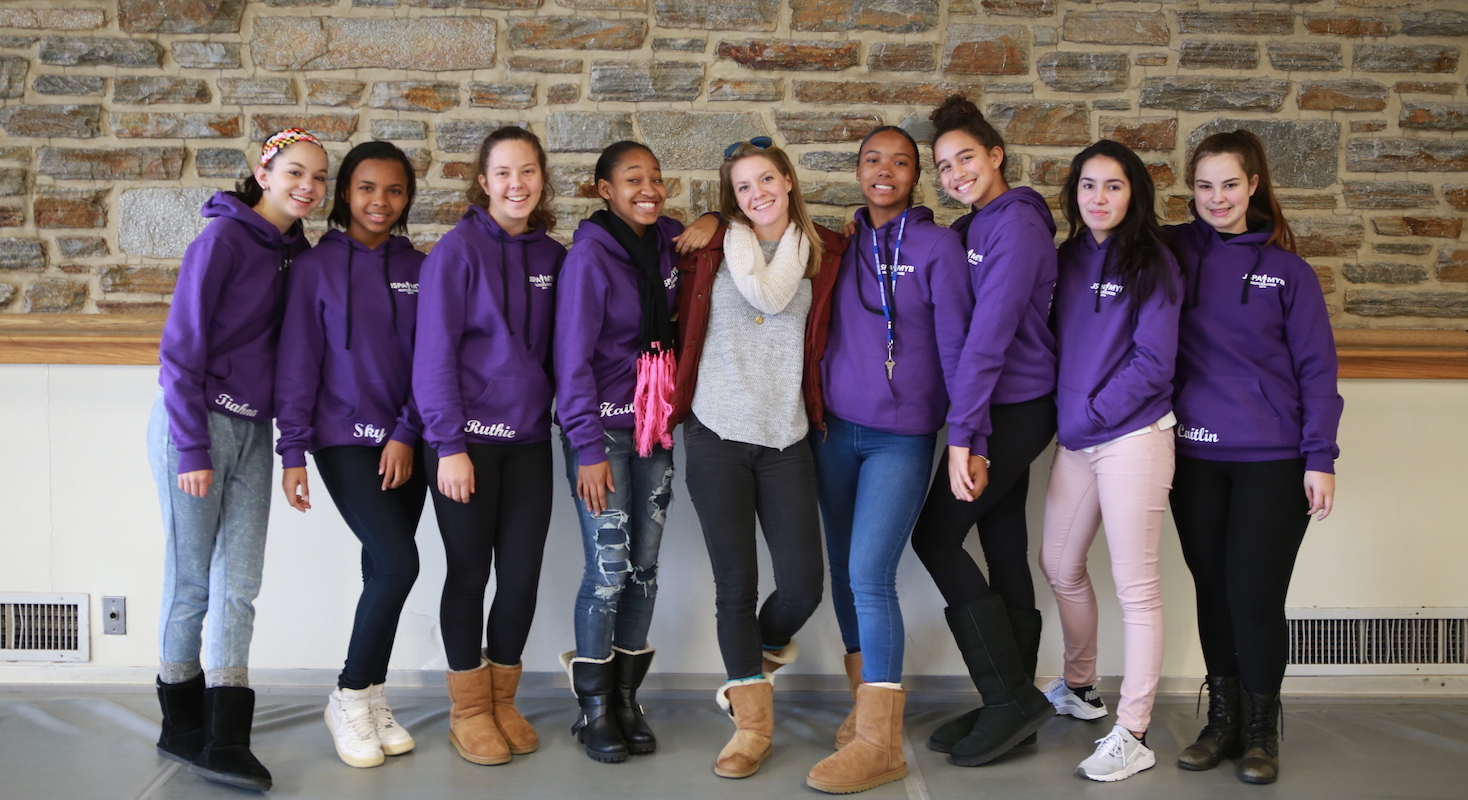 Alumnae Bring Dancers Together
Molly Englund
Sometimes, being part of the Goucher community means working with one of your former students to rehearse a ballet across miles of ocean. It sounds complicated, but Nadia Letnaunchyn '00, M.A.A.A. '08 and Emily Polasik '13 know how to make it look easy.
Each December for the past 10 years, the Mid Atlantic Youth Ballet (MYB) has performed The Nutcracker at Kraushaar Auditorium. Letnaunchyn, the founder of MYB, traces its roots back to her graduate program. As part of a project, she created a nonprofit organization. Eventually it became MYB, which today teaches about 100 students, with another 30 or so who perform with the company.
In addition to running the company, Letnaunchyn also spent time teaching dance in Baltimore County public schools. That's how she met Polasik, who studied with Letnaunchyn in high school and later joined MYB until she left to study dance at a college in Virginia.
The summer after Polasik's first year of college, she decided she wanted to be in a more challenging dance program. On a lark, she applied to Goucher, her former teacher's alma mater. A few weeks later, she was on campus for early arrival. She majored in dance education, having long known she wanted to teach. When Polasik was young, her mom asked her what the point of a skill was if you didn't pass it on to someone. "That stuck with me," she says. "I don't get the same satisfaction from performing that I get from teaching and seeing my students perform."
While at Goucher, Polasik worked in the dance office. As one of her last tasks after graduation, she took down the old fliers layered on the bulletin board. An ad seeking dance teachers in Bermuda caught her eye. She had expected to stay in the area and find a teaching job, but if she could do the same thing in Bermuda, she thought, then why not?
Polasik flew to the island and began working at the Jacksons School for Performing Arts, teaching ballet, jazz, modern, and other styles to students aged five and up. She teaches 18-20 classes a week. "I love my job," she says. "I have great students, and dance is really well-received here." And the Goucher community is never too far away; recently, Polasik ran into the men's soccer team. She didn't know any of them, she says, but they "probably sat down by the harbor for almost an hour chatting."
As much as she enjoys island life (all 20 square miles of it), Polasik still likes to visit Goucher when she can. On one visit last year, she had an idea: What if she brought some students to Baltimore to perform with MYB in The Nutcracker? She spoke to Letnaunchyn, and they eagerly agreed on a trade— first the Bermudians would come to Baltimore, and next year, dancers from MYB will come to Bermuda.
For The Nutcracker, Letnaunchyn directed 140 dancers (the youngest was almost four years old), plus eight teenagers from Bermuda. However, the Bermudians couldn't come to Baltimore until the week of the performance, so Letnaunchyn sent videos of the choreography to Polasik, who taught it to her students. It made for a seamless integration once they came to Baltimore, even though the Bermudians weren't that familiar with the ballet. "Technology has really transformed what we're able to do," says Letnaunchyn. "10 or 15 years ago, this wasn't possible."
Once they got to Kraushaar last December, the challenge for the group was figuring out the spacing on stage. "They did a wonderful job," Letnaunchyn says. And Letnaunchyn's biggest challenge with the Bermudians? Making sure they felt welcome and part of the company. Luckily, they were and they did—and that's eight more people added to the Goucher community.