Browsing articles in "Uncategorized"
Zeniada, an intercollegiate poetry and art magazine based at Johns Hopkins University is currently accepting submissions for its Spring 2020 issue. They accept poetry (including prose poetry) and artwork. Anyone who is enrolled in an undergraduate program for the current school year is welcome to submit. The deadline is March 23, 2020.
For more information, check out their website, here. The email address to submit is submit@zeniada.com. Questions can be sent to ask@zeniada.com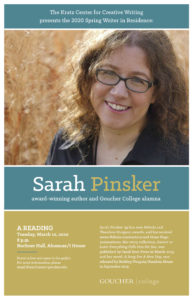 The Kratz Center is proud to welcome author Sarah Pinsker this coming spring. Sarah Pinsker '99 has won Nebula and Theodore Sturgeon awards and has received seven Nebula nominations and three Hugo nominations. Her story collection, Sooner or Later Everything Falls Into the Sea, was published by Small Beer Press in March 2019, and her novel, A Song For A New Day, was released by Berkley/Penguin/Random House in September 2019.
Sarah Pinsker will read from her work on the night of March 10, 2020.
Please feel free to email any questions to Kratz.Center@goucher.edu.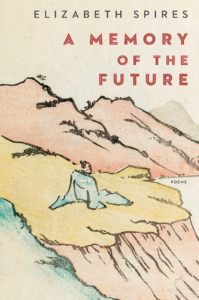 Elizabeth Spires' new book A Memory of The Future will be published on July 24th, 2018 by W. W. Norton.
"Zen-infused meditations on the limitations of memory, mortality, and the boundaries of human existence.
In A Memory of the Future, critically acclaimed poet Elizabeth Spires reflects on selfhood and the search for a core identity. Inspired by the tradition of poetic interest in Zen, Spires explores the noisy space of the mind, interrogating the necessary divide between the social persona that navigates the world and the artist's secret self. With vivid, careful attention to the minute details of everyday moments, A Memory of the Future observes, questions, and meditates on the ordinary, attempting to make sense of the boundaries of existence.
As the poems move from Zen reflections outward into the identifiable worlds of Manhattan, Maine, and Maryland's Eastern shore, houses, both real and imagined, become metaphorical extensions of the self and psyche. These poems ask the unanswerable questions that become more pressing in the second half of life. How are we changed by the passage of time? How does memory define and shape us? As Spires reminds us, any memory of the future will become, paradoxically, a memory of the past, and of forgetting."
Eleanor Kratz Denoon    (1915 - 2010)
| | |
| --- | --- |
| | The founding donor of the Kratz Center for Creative Writing was Eleanor Kratz Denoon, class of 1936. She was a tireless champion of literature, a lifelong advocate for peace, and a beloved alumna of Goucher College. |