Browsing articles in "NEWS"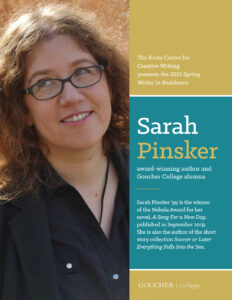 The Kratz Center is proud to welcome author Sarah Pinsker again this coming spring.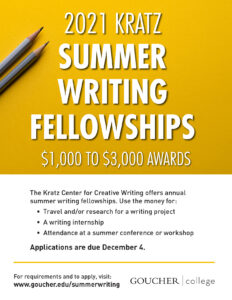 We are now accepting applications for the 2021 Kratz Summer Writing Fellowship. For more information and to apply, visit: Summer Writing Fellowships.

The Kratz Center for Creative Writing at Goucher College is proud to announce that Sarah Pinsker has won the Nebula Award for her novel, A Song for a New Day (Berkley). Ms. Pinsker, class of 1999, will return this coming spring as the Kratz Writer in Residence. The Nebula Award is given each year to the best works of science fiction or fantasy published in the United States. Ms. Pinsker was also a finalist in the Best Novelette category for The Blur in the Corner of Your Eye. She previously won a Nebula for Our Lady of the Open Road in 2016.
Each spring, the Kratz Center for Creative Writing welcomes a writer in residence to Goucher College. Over the course of the semester, the writer in residence teaches an advanced fiction writing course, conducts tutorials with students, reads from his or her work, signs books, visits classes, and bonds with students and community. The Kratz Center is proud to have Ms. Pinkser return in this role in 2021.
For the full Nebula Award list, please visit the link below: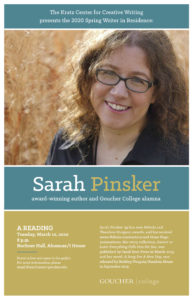 The Kratz Center is proud to welcome author Sarah Pinsker this coming spring. Sarah Pinsker '99 has won Nebula and Theodore Sturgeon awards and has received seven Nebula nominations and three Hugo nominations. Her story collection, Sooner or Later Everything Falls Into the Sea, was published by Small Beer Press in March 2019, and her novel, A Song For A New Day, was released by Berkley/Penguin/Random House in September 2019.
Sarah Pinsker will read from her work on the night of March 10, 2020.
Please feel free to email any questions to Kratz.Center@goucher.edu.
Eleanor Kratz Denoon    (1915 - 2010)
| | |
| --- | --- |
| | The founding donor of the Kratz Center for Creative Writing was Eleanor Kratz Denoon, class of 1936. She was a tireless champion of literature, a lifelong advocate for peace, and a beloved alumna of Goucher College. |
STAFF