What is Box.com?
Goucher provides Box.Com accounts for all current faculty and staff for storing computer files and folders. Files stored in a Box account can be accessed from multiple locations (home, office, etc.), from multiple devices (computer, phone, tablet), and are safe when unexpected technical problems arise (breakage, loss, theft, etc.)
Table of Contents
Upload Existing Content
Use Automatic Sync
Turn Syncing On and Off
Edit File Contents
Share a Link (Others can view only)
Collaborate (Others can edit)
Versions
Download the App
Real Time Co-Authoring
Uploading Existing Content
Open a browser and go to http//goucher.box.com. (Chrome browser works best.)
Login with your regular username and password
Open File/Folder* View
Drag and Drop onto BOX
*NOTE: You can only drag and drop folders onto BOX when using Chrome.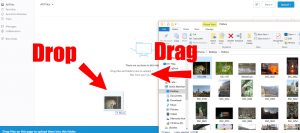 An alternate way to upload files is:
Go to the folder you would like to upload to.
Click "Upload" in the upper left to upload a file to the folder you are currently in.

Select "Files" to upload a relatively small number of files.
Select "Folders" to upload one or more folders, or a large number of files.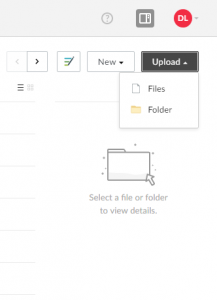 Use Automatic Sync
After logging into your Goucher Box account, click on your name.
Click "Get Box Sync".
Download and install the program.
You will prompted to set up the connection with your Goucher Box.com account and enter your email and password. Enter your email as firstname.lastname@goucher.edu.
Once the installation is complete and the connection made, a folder called "Box Sync" will appear with your other file locations so you can use Box as a regular drive. Anything saved or changed in this folder on your computer will automatically be uploaded to your Goucher Box account.

*NOTE: This will create a copy of every synced file on the device's hard drive. For this reason, it is not recommended that Box Sync be installed on home or public computers.

Turn Syncing On and Off

If you have installed BoxSync on your computer, any files stored in this folder will automatically be synced with your Goucher Box account, but you can turn syncing off at any time if you want to save space on your hard drive but still keep a copy in your Box account.

To do this:

 Log into http://goucher.box.com and find the file you want edit.
Right click on the folder/file or click on the "…" icon next to the folder/file.
Hover over Properties in the drop down and select  "UnSync".Or alternatively choose "Sync to Computer" to turn on syncing.

*NOTE: Unsyncing a folder or file will remove it from the Box Sync folder on your computer. Deleting a file or folder in the Box Sync folder on your computer will delete in Box. If you need to recover a deleted file or folder, see here.


Want to know more about Box Sync? Check here and here.

Editing File Contents

Option 1: Edit Inside Browser

Some files (Word, Excel, PowerPoint) can be edited in the browser.

Go to BOX
Select File to be edited
Choose "Open With…" and select online option
Edit
All changes will be saved directly onto BOX

*NOTE: If a file cannot be edited in the browser use Box Edit (see below). Alternatively, files that cannot be edited in the browser can be downloaded, edited, and then re-uploaded as a new version on Box.

Option 2 – Use Box Edit

Box Edit is a downloadable add-on that makes it easier to edit documents that you cannot edit inside your browser.

You can download Box Edit here.

For more information on Box Edit, check here.

Share a Link

*VIEW-ONLY ACCESS*

Click on the "Share" icon on top of the file/folder
Share via email, or copy and paste the link

Collaborate

*INCLUDES PERMISSION TO EDIT*

Click on a folder.
 Collaborators will listed in a panel on the right side of the screen.
Click "Invite" to add new collaborators.

Note: Collaborators invited without @goucher.edu email address (including students) will have to sign up for their own Box.com account.

Versions

When you edit a file in the browser or upload a new version of the file, Box overwrites the old version with this new version. You do not need to rename files as "Document Title_version2".
Box keeps the old versions of your files, which means you can always access them. All of the old versions are saved in the version history.

To upload a new version of a file click the "…" to the right of the file and select "Upload New Version".

Viewing Version History

The version history of a file can be viewed by clicking the "v" below the file name or when previewing a file.

When you look at the version history of a file, the current version is at the top. You can also "Download" or "Remove" (X) any versions. It is also possible to revert back to a previous version of a file by clicking on "Make Current".


Download the App

Users wishing to access their Box files on a mobile device such as a phone or tablet should download the Box.com app. An app is available for Android, Apple, and Windows10 devices. The app can be found from the mobile store you use to add any new apps to your device.

Real Time Co-Authoring

With Box for Office Online, you can edit a document with other users in real time. All changes or edits will be automatically saved to Box. When collaborating on a document, the names of the users will appear in the upper right corner. Each collaborator's text cursor will appear in a different color and their name will appear next to it.