Ailish Hopper's civic poetry at BillMoyers.com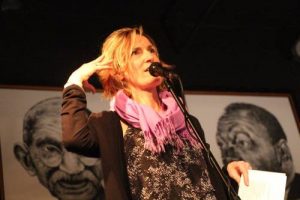 For National Poetry Month, Bill Moyers' website is featuring five "civic poets," including Goucher Assistant Professor of Peace Studies Ailish Hopper.
Poetry isn't just something that happens on the page, or in a performance. Just like young poets sometimes learn from even watching an elder poet step to a mic, or sussing out a problem in their life, all of us can learn from the way poetry calls us to approach things from wholeness.