Goucher College Hillel Receives Honors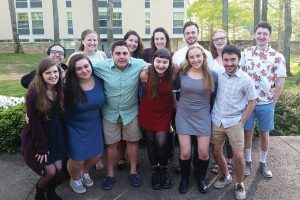 Hillel International, the largest Jewish campus organization in the world, this week presented awards to recognize individuals and campus Hillels that best exemplify the movement's mission – to enrich the lives of Jewish students so they may enrich the Jewish people and the world. Goucher College Hillel received two distinct honors at Hillel International's annual Global Assembly in Orlando.
"This year's winners serve as a model of how enthusiasm and dedication can help campus Hillels across the country succeed in engaging and educating students, no matter their size or location," said Eric D. Fingerhut, President and CEO of Hillel International. "We're proud of our professionals for the work they do every day to help achieve Hillel International's mission of reaching every Jewish student on campus."
At the awards ceremony, Goucher received the Israel Education and Engagement Award for work on connecting with students on our campus regarding Israel through speakers, Birthright Israel, student organizing, dialogues, and weekly programming.  This award is due to the excellent work of Karin Hasin, Goucher Hillel's Israel Engagement Coordinator and Jewish Agency for Israel Fellow.  "We have been blessed to have Karin for three years, and her work on campus has blossomed in the time she has been with us," shared Rabbi Josh Snyder, Executive Director.
Goucher Hillel was also recognized with an Excellence in Impact Certificate for achieving the threshold of excellence as part of Hillel International's Measuring Excellence program.  "We need to thank Rachel Plotkin, our Assistant Director, for excellent work engaging students and working to report data and get student feedback which garnered this award," said Snyder, "We found through student surveys that our Hillel is in the top 20% in the country in terms of the positive effects we are having on students' connection to their Jewish identities and communities.  We feel incredibly proud as this is Hillel's ultimate goal –  to foster an enduring commitment to Jewish life, learning and Israel."