Maryland Horse Breeders Association Relocating to Goucher College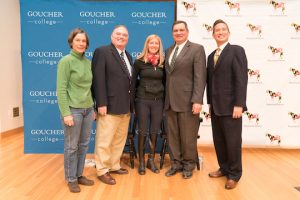 Baltimore, Md., November 21, 2016—The Maryland Horse Breeders Association announced Friday that it will relocate its headquarters from Timonium to Goucher College at the end of December. Goucher is currently developing an 18-acre state-of-the-art intercollegiate equestrian center that will be anchored by the Maryland Horse Breeders Association's office, which will eventually offer a museum and library at its new home.
The MHBA's partnership with Goucher will help create programming opportunities to educate new fans of the horse industry, provide adult education opportunities and clinics for riders and feature top equestrian professionals as guest clinicians, teachers and speakers. This partnership will also allow Goucher students to work with leaders in the horse industry as part of the college's new equine studies minor.
"Goucher's equestrian program celebrates a great tradition, and we are honored to welcome the Maryland Horse Breeders Association to our campus," said Goucher President José Antonio Bowen. "Our partnership with the MHBA will build upon Goucher's strong equestrian legacy and be a building block for enhanced facilities and equine education opportunities for future generations. We look forward to welcoming horse lovers to our new equestrian facility very soon."
"The Maryland Horse Breeders Association is looking forward to moving our offices and library to the Goucher Campus," said Maryland Horse Breeders Association Executive Director Cricket Goodall. "We are excited to show the diversity of opportunities that are available in the horse industry, from internships to careers. With our monthly magazine, The Mid-Atlantic Thoroughbred, to Jim McKay Maryland Million Day we can offer experiences in publishing and design; event planning and management to public relations and advocacy. We have members and staff who can offer the students personal perspectives and guidance. Horses and education – what better alliance could we have!"
Goucher boasts one of the only co-ed programs in the nation with facilities on campus. Plans for the college's equestrian facilities include a new 32-stall barn, with  a classroom space for the new equine science program; and expanded riding rings with enclosed and open viewing areas, an enclosed observation room, an additional classroom and trophy room, a pavilion, and a participant holding area. The new space will also feature a library, memorabilia, and a museum for the Maryland Horse Industry. Renderings of those plans and the rest of Goucher's improvements are available at www.goucher.edu/communitymatters.
"I have always been proud of Goucher's rich equestrian history, and with the launch of the Equine Studies Minor and this incredible partnership, the future of this program is bright," said Jen Smith, director of Goucher's equestrian program. "The industry opportunities and connections MHBA can provide Equine Studies students at Goucher is invaluable. We are looking forward to a dynamic new facility, and the effects of all of these changes on recruitment, as we emerge as a hub for Equestrianism in Maryland."
An economic impact study of the Maryland horse industry released today shows that Maryland horse farming brings in more than $1.15 billion in economic activity a year, 23 percent higher than the $930 million it generated in 2010.
The survey findings were announced at a news conference held at Goucher College in Towson. Speaking at the announcement were Anirban Basu, chairman and CEO of Sage Policy Group, Joe Bartenfelder, secretary of the Maryland Department of Agriculture, and Dr. José Antonio Bowen, president of Goucher College.
Top survey findings by the Sage Policy Group show that the Maryland horse industry supports approximately 5,800 full-time jobs across Maryland (9,100 by including indirect FTE positions), with nearly a half a billion dollars in wage and salary income.
More:
WBAL: Maryland Horse-Racing Industry Makes a Comeback
Baltimore Sun: Study says Maryland horse industry is rebounding, 'still healing'