Goucher Professor Receives National Educational Research Award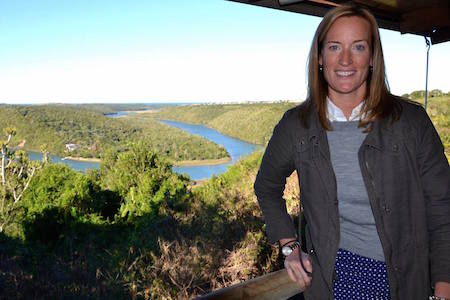 Mary Adkins, Goucher College associate professor of education and director of the Master of Arts in Teaching program, received the 2016 American Educational Research Association (AERA) Division K award for Exemplary Research in Teaching and Teacher Education for her research into practices that support at-risk writers in the second grade. AERA is the nation's largest professional association devoted to the scientific study of education.
"This is an incredible honor," says Goucher College President José Antonio Bowen. "At Goucher, we understand the critical importance of writing, and we're proud of Dr. Adkins' contribution to helping at-risk students develop these skills at an early age."
Dr. Adkins shares the award with Dr. Steve Graham and Dr. Karen R. Harris of Arizona State University for their article, "Practice-based professional development and Self-Regulated Strategy Development for Tier2, at-risk writers in second grade," published in Contemporary Educational Psychology. The award committee praised the researchers' rigor and their attention to educational equity—the work focuses on struggling writers in urban neighborhood, most of whom were students of color.
"I'm very proud to have been a part of this collaborative work that is being recognized by the AERA," says Dr. Adkins. "Writing development and instruction often take the backseat to reading and more recently to STEM [science, technology, engineering, and mathematics] despite writing's importance to student success."
Dr. Leslie W. Lewis, provost of Goucher College, said: "It's great to get this recognition of Dr. Adkin's work. We're very proud of our faculty members and their commitment to excellence in both research and in the classroom."
Dr. Adkins earned her bachelor's degree from West Virginia Wesleyan College in 1995 and master's degree and doctorate from the University of Maryland, College Park in 2004. She began working at Goucher College as an assistant professor in 2005 and she is now also a director of the Master Arts in Teaching Program for the Welch Center for Graduate & Professional Studies.
For more information, visit  http://www.aera.net/