Coding for Community: A Civic Hackathon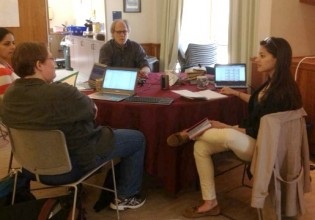 Goucher College is hosting the second annual "Coding for Community: A Civic Hackathon" Friday, April 17, to Sunday, April 19 in the Batza Room of the Sanford J. Ungar Athenaeum. The event brings together citizens, software developers, scholars, entrepreneurs, designers, and other creative thinkers—whether tech savvy or not—to plant the seeds that help communities thrive.
At the beginning of the event, participants will coalesce in ad hoc teams around projects that engage them and draw on their talents and experiences. Tickets are $5, and meals and snacks are provided. To register, visit goucher.edu/codingforcommunity.
Projects will be designed, built, and presented over the course of the weekend. Leaders from technology, sustainability, and regional cultural spaces will judge projects for the monetary prizes (first, $500; second, $200; third, $100), as well as provide feedback to all teams.
Projects may include apps, videos, websites, games, plans, or other platforms. The winning submission from last year's event was "House Plans for Firefighters," which lets firefighters see the floor plan of a home before entering it, providing valuable information for everyone's safety. Runners-up were an app that matched vacant buildings with pop-up shops to create commerce in otherwise-empty areas, a management tool to help people find and adopt vacant lots for gardening, and a web-based graphic visualization tool that organizes data on national parks visitors.
This event is sponsored by Goucher College's graduate programs in Cultural Sustainability, Digital Arts, Environmental Studies, and Management. For more information, contact Michael Scott-Nelson, academic program director in the digital arts program, at 410-337-6464 or Michael.Scott-Nelson@goucher.edu.