Bringing Jane Austen's Emma to Everyone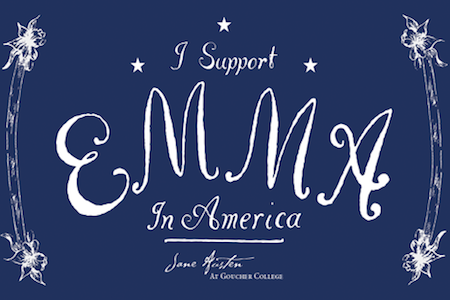 Leading up to the 2015 bicentennial anniversary of Jane Austen's Emma, Goucher College will be providing an open-access edition of a very rare American version of the beloved novel.
Goucher—home to the largest Austen collection in North America—has one of just six copies of the rare 1816 Philadelphia edition of Emma, the first and only of Austen's works published in the United States during her lifetime.
The Goucher Library has plans to digitize the book in its entirety so Austen fans, scholars, students, and general readers can view each page as it originally appeared. The scanning will be done by the Conservation Center for Art and Historic Artifacts in Philadelphia, one of the largest nonprofit conservation centers in the country and a specialist in art and artifacts on paper. In addition, the college plans to add contextual materials to create an interactive online experience centered on this exceptional edition.
The Goucher Library is using a crowd-funding campaign to raise the $70,000 needed to digitize the novel and launch the interactive website. Thanks to a leadership pledge of $25,000 from an anonymous member of the Jane Austen Society of North America, the campaign is almost halfway to its goal.
To learn more about the crowd-funding campaign, visit www.goucher.edu/emmainamerica or call Kristen Welzenbach, digital systems and services librarian, at 410-337-6370. For information about the Jane Austen Collection, contact Tara Olivero, curator of special collections and archives, at 410-337- 6075.