The Artifacts Drawings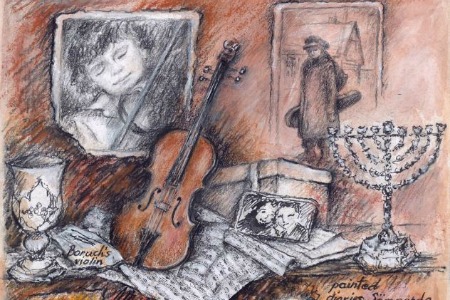 In the exhibit The Artifacts Drawings, Baltimore-born, Goucher-educated artist and author Nancy Patz will showcase more than 100 of her drawings of artifacts from Holocaust museums nationwide.
They are available for viewing in the Sara Siebert Center in the Sanford J. Ungar Athenaeum from 8 a.m. to 10 p.m., Sunday, September 14, to Friday, December 5.
Patz chose each piece from Holocaust museums in Jerusalem, Washington, Houston, New York, and more, drawing them as if they were portraits. The art features a wedding dress worn by brides in a displaced persons camp, a teddy-bear named "Refugee" by the child who carried it from camp to camp, and a prayer book bought with a morsel of bread.
The artist used ink, pencil, and watercolor in the drawings, originally created for a 2014 issue of Yeshiva University's PRISM: An Interdisciplinary Journal for Holocaust Educators.
For more information on the exhibit and coinciding lesson plans, visit goucher.edu/theartifactsdrawings.
The Artifacts Drawings is presented by the Friends of the Goucher College Library, with generous support from: the Azrieli Graduate School of Jewish Education & Administration at Yeshiva University; the Elizabeth B. and David Allan Robertson Fund, Goucher Hillel; Goucher College's Department of Education, Office of Religious and Spiritual Life, and Peace Studies Program; the Nancy Patz Corner Fund; and the Sara Siebert Library Fund.