Goucher College First in Nation to Launch Video Application Alternative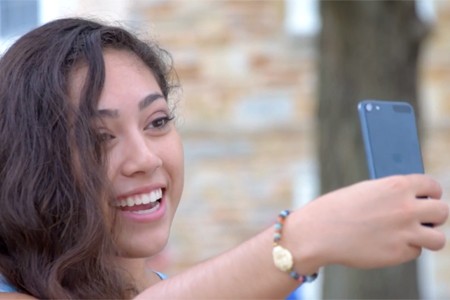 Goucher College is the first college in the nation to create an application option requesting student-submitted videos as the decisive factor for admission. Beginning with applicants for the 2015-2016 academic year, students can choose not to submit transcripts, test scores, and other traditional application materials. Instead, applicants can send Goucher a straightforward, two-minute video about how they see themselves flourishing at the college.
Goucher has added the Goucher Video App (GVA) to its Common and Universal College application options.
While other colleges and universities accept or request videos to supplement their application processes, Goucher is the first to offer an option that will use a student's self-produced video as the crux of the admissions decision. The college admissions process can be confusing, complicated, and costly for many families. The Goucher Video Application (GVA) represents an innovative step to demystify and de-stress the admissions process and create a more transparent application for students of all socioeconomic backgrounds.
"At Goucher, we believe students are more than the numbers and other data on their academic records," said Goucher President José A. Bowen, Ph.D. "Access to higher education should be about potential and not just previous achievement. With the Goucher Video App, we want to attract capable, passionate students who want a liberal arts education that leads to solid careers and sustains a lifetime of learning."
As the first college to include study abroad as a graduation requirement, the Goucher Video Application adds to the college's legacy of innovation in undergraduate education. In addition to the video itself, Goucher asks students to supplement video submissions with a brief application form, a signed statement of academic integrity, and two works of scholarship (including a graded writing assignment).
Each application will be closely reviewed by an admissions counselor and a faculty member, and they will make recommendations regarding acceptance to a larger review committee. Production value will not be among the evaluation criteria for the Goucher Video App. Application reviewers will base their admissions decisions on the thoughtfulness of the student's response.
Applicants who want to be considered for merit scholarship will have to submit a high school transcript and will have the option of submitting test scores, although Goucher has been test-optional since 2007. Need-based financial aid will be available to admitted students who apply using the Goucher Video Application.
While the Common Application and the Universal College Application are convenient for many students, for others, these traditional admissions procedures may not showcase their true talents and abilities. Drawing upon recent research that shows more traditional methods of admissions favor wealthier students, and concerns about ongoing efforts to provide educational opportunity for all students, Goucher has selected this new and innovative approach.
"In the revolution in media and higher education occurring today, colleges will inevitably need to use all tools at their disposal to encourage students to apply and assess their potential," said Nina Kasniunas, assistant professor of political science, who served as an advisor in GVA's development. "This innovation in admissions is a natural step for Goucher because we are looking for students who embrace the challenge of sharing their intellectual passions and interests with the power of video. We pride ourselves on the wide array of smart, interesting students who we teach in our classes and who call our campus home."
"We have always taken a holistic approach to how we evaluate students for admission to Goucher College," said Christopher Wild, admissions counselor. "The Goucher Video App will help us broaden our pool of applicants and ultimately guide qualified students to Goucher so they can explore their interests and talents and reach their full potential on campus and abroad."
For those interested in learning more, Goucher has produced several informational videos that explain GVA. Prospective students and parents can find more about the admissions process, financial aid, and campus life by visiting Goucher's website. Check out Goucher on Facebook, Tumblr, YouTube, and follow the college at @gouchercollege, #gouchervideoapp #morethananumber.