Fundraiser for Goucher's Futuro Latino Learning Center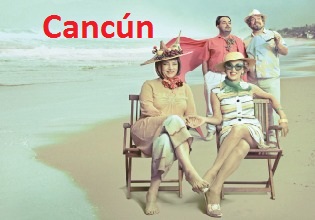 Goucher College's Futuro Latino Learning Center (FLLC) is raising funds to continue to provide excellent educational services to the Latino community of Baltimore County. In partnership with the GALA Hispanic Theatre in Washington, DC, the FLLC will receive all proceeds from tickets sales for a preview presentation of the play Cancún.
The event will be held Wednesday, September 10, starting with a reception and light refreshments in the theatre lobby at 7 p.m. followed by the presentation of the play in Spanish with English surtitles at 8 p.m. The GALA Hispanic Theatre is located at 3333 14th Street, NW.
Tickets are $40 and can be reserved here before September 10 and picked up on the evening of the event. Tickets will also be sold at the door that night. For more information, contact Frances Ramos-Fontán, director of the Futuro Latino Learning Center, by email at framos@goucher.edu or by phone at 410-337-6287.
Written by Spanish playwright Jordi Galceran and directed by José Zayas, Cancún is a comedy about contemporary relationships and marriage. It is a story of two married couples spending a dream vacation in Cancún. A night of fun and frolic brings up questions of "what might have been" and the realization that happiness and personal fulfillment often hinge on the smallest decisions.
Goucher's Futuro Latino Learning Center is a grassroots initiative founded on the college's campus in 2009. Nearly 120 Latino families in mostly underserved Baltimore County area come to the center on Saturdays to receive free ESL courses, computer training, job search assistance, Spanish-English conversation courses for adults, and a cultural-enrichment and playtime programs for children. The center is staffed almost entirely by Goucher students, who get real-world opportunities to improve their Spanish conversational skills and interact with the local Latino community in a meaningful way.