Princeton Review Features Goucher in 'The Best 379 Colleges'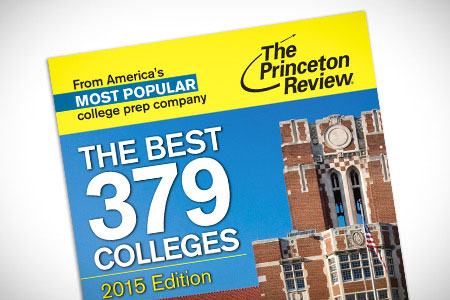 Goucher College once again has been included in The Princeton Review's annual college guide, The Best 379 Colleges. Additionally, Goucher was No. 1 on the guide's 2015 list of schools with the "Most Popular Study Abroad Program," and it was ranked No. 19 in the nation for "Best Campus Food."
Only about 15 percent of America's 2,500 four-year colleges and only four colleges outside the United States are profiled in the guide. The Princeton Review does not rank the colleges in the book academically or numerically. Instead, it includes detailed profiles of the colleges with rating scores for all schools in eight categories, plus lists of top 20 schools in 62 categories based on surveys of 130,000 students attending the colleges (average 343 per campus). The 80-question survey asks students to rate their schools on several topics, including their school's professors, library, career services, and athletic facilities. Click here for explanations on each ranking list.
Goucher students surveyed for the book express high satisfaction with their academic experience. Many of them cited Goucher's study abroad requirement as a primary reason for choosing the college because it helps to create a "globally-minded and social justice oriented" student body. In Goucher's small, intimate classes, students "build a foundation of critical and analytical thinking" and are challenged to exceed their own goals through the college's "immense focus on transcending boundaries to explore and grow."
Students name Goucher as among those "colleges that change lives" and sum up their experience as "a rigorous education in a green environment, with a focus on community and world awareness." Goucher undergraduates say, "We're motivated, socially active students who really care about the world we live in."
The rating scores (from 60 to 99) in the eight categories are based on institutional data The Princeton Review collected during the 2013-14 academic year and/or its student surveys. Rating categories include: academics, admissions selectivity, financial aid, fire safety, and green ranking, a measure of school's commitment to the environment in its policies, practices, and education programs. Among the ratings in the Goucher's profile are scores of 91 for academics and 90 for its green rating. Click here for more information on each rating score.
Review Goucher's complete profile here.