Shifting Ground: Selected Paintings 2008-2014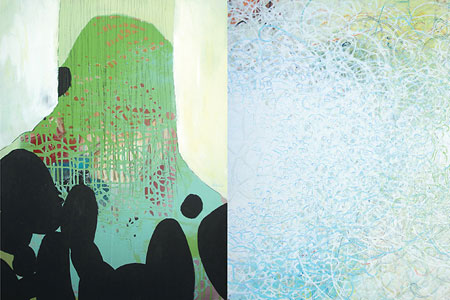 In Shifting Ground, Selected Paintings 2008-2014, a new art exhibit at Goucher College, Greg Minah traces the trajectory of his paintings since completing an artist residency program in Joshua Tree National Park six years ago.
The exhibit, which is free and open to the public, is being presented in Rosenberg Gallery on Goucher's campus, from Thursday, June 5, to Sunday, August 31. The art can be viewed Monday through Sunday from 9 a.m. to 5 p.m. An artist's reception will be held in the gallery on Thursday, August 28, 6-9 p.m., with an artist's talk at 7:30 p.m. Call 410-337-6477 or visit www.goucher.edu/rosenberg for more information.
Minah graduated from the University of Maryland at College Park in 2001 with a degree in English literature and studio art. In 2009, he was honored as a finalist in both the Bethesda Painting Awards and the Trawick Prize. He received the top Individual Artist Award Grant in 2010 from the Maryland State Arts Council and had 10 paintings reproduced and permanently installed on an outdoor public wall in Arlington, VA. In 2012, Minah was selected to exhibit at the U.S. Embassy in Guatemala as part of the Art in Embassies Program, and another public installation, Tunnel Vision, was installed in the Washington, DC, Metro. His work has been included in group and solo exhibitions throughout the United States and can be found in public and private collections internationally. Minah lives and works in Baltimore.
Minah's paintings emerge from a fascinating work process of canvas and paint—bordering on performance—and from his active exploitation of the possibilities of his materials. He plans carefully, but remains responsive to chance. Minah works on two or three paintings at a time, creating images that can stand singly, in pairs, or in series.
The residency years ago presented Minah the opportunity to experiment and take risks with his canvas and paints. The result was inspiration and a fresh, individual artistic approach.