Tribute to Former President Dr. Rhoda M. Dorsey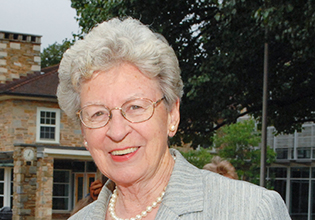 Rhoda M. Dorsey, the eighth president of Goucher College and the first woman to hold that post, passed away on May 10 in her apartment at the Broadmead retirement community in Cockeysville, Maryland.
Goucher will honor the life and work of Dr. Dorsey at a celebration on Monday, June 16, at 11 a.m. in Kraushaar Auditorium.
"For four decades Rhoda educated and inspired thousands of students," said President Sanford J. Ungar. "I greatly admired her example of leadership and her commitment to making Goucher College a paragon of higher education, even when it meant making tough decisions. She will be sorely missed. It is a sad day for Goucher."
Dr. Dorsey joined the Goucher faculty in 1954 as an assistant professor of history. She became academic dean of the college in 1968 and was named acting president in 1973. She took on the job permanently on April 15, 1974, and served for 20 more years until retiring in 1994. During her tenure as president, Dr. Dorsey oversaw the planning and celebration of the college's centennial celebration in 1984/1985, as well as the transition to co-education in 1986.
Rhoda Dorsey earned a Bachelor of Arts degree from Smith College and won a Fulbright Fellowship to attend Newnham College in Cambridge, England, where she earned a second BA and a master's degree. She went on to receive a doctorate in history from the University of Minnesota.
She served on a number of business and educational boards and committees, and she was a delegate to the U.N. Decade for Women Conference in Kenya in1985. Dr. Dorsey published extensively and was a strong voice in support of women's education and the liberal arts. In 1987 she was named one of the 100 most effective college and university presidents in the United States, based on survey responses by college presidents, administrators, scholars, and foundation officers.
Often called "the protector of Goucher's legacy," in recent years Dr. Dorsey spearheaded the effort to establish an Athletics Hall of Fame, served on the college's Committee of Visitors, volunteered in its archives, and was active in reunion events and programming.
Dr. Dorsey leaves a sister, Frances Dorsey Cobb, of Hartford, Connecticut.
A memorial website has been set up in honor of Dr. Dorsey. Community members are invited to share their thoughts and memories and enjoy the memories of others. After June 16, a video of the celebration of Dr. Dorsey's life will also be made available on the site.
Contributions in memory of Dr. Dorsey, and in honor of her impact on Goucher College and its students, can be made to the Rhoda M. Dorsey Scholarship, an endowed fund that supports need-based financial aid for undergraduates. To make a gift, please visit the scholarship donation page.