2014 Summer Reading Assignment: 'The Reluctant Fundamentalist'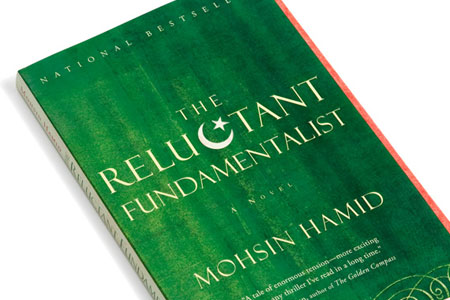 This summer, new students at Goucher College will read Mohsin Hamid's The Reluctant Fundamentalist, a psychological thriller that puts a new and interesting spin on culture, success, and loyalty in the post-9/11 world. The book is Goucher's 2014 summer reading assignment for first-year and transfer students.
Selected based on suggestions from the campus community, The Reluctant Fundamentalist will spark discussion among new students, staff, and faculty during Goucher's fall orientation session. This summer, incoming students will receive a copy of the book and study guide questions to foster group conversation during a daylong discussion that will be held on Sunday, August 24. Hamid will also present a free public reading that day at 7:30 p.m. in the Hyman Forum of the Athenaeum.
Written as a single, sustained monolog, the novel is set in the years following the terrorist attacks of September 11, 2001. At a café table in Lahore, Pakistan, Changez, a bearded Pakistani man, sparks a conversation with a suspicious, and possibly armed, American stranger.
Changez had been living an immigrant's dream of life in America. He arrived in the United States as a student of Princeton University, where he studied business and graduated with high honors. He was quickly recruited by an elite firm that specializes in the "valuation" of companies ripe for acquisition.
For a time, it seemed as if nothing would stand in the way of Changez's meteoric rise to personal and professional success. All of this changed in the wake of September 11. He was on a work assignment in the Philippines when the World Trade Center was attacked. Although pleased at first to see America "brought to her knees," Changez grew concerned for the victims, and his position in his adopted city was suddenly overturned.
Upon flying back to New York he found life there markedly different – beginning when he was strip-searched at the airport and treated as a foreigner, despite having lived in the city for years. This is the turning point of the novel, from which Changez began to feel uncomfortable in the United States and started his revolt against his company and its capitalist values.
Changez's identity undergoes a seismic shift, unearthing allegiances more fundamental than money, power, and perhaps even love.
Hamid's novel, his second, became an international bestseller. It was shortlisted for the Man Booker Prize, the Decibel Award, and the Commonwealth Writers Prize, and it went on to win the South Bank Show Award for Literature.