Sean McComb Named 2014 National Teacher of the Year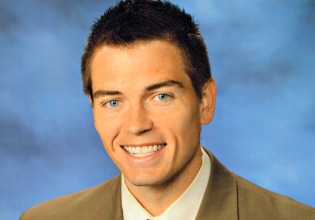 Sean McComb, a 2013 graduate of Goucher College's Professional Development Certificate program, has been named the 2014 National Teacher of the Year. He teaches English at Patapsco High School & Center for the Arts, one of Goucher's professional development schools.
President Barack Obama will introduce McComb as the 64th National Teacher of the Year during a White House ceremony at 2 p.m. on Thursday, May 1. McComb, 30, was one of four finalists for becoming the nation's top teacher after being named Maryland's Teacher of the Year last October and Baltimore County's Teacher of the Year on May 6 last year.
As National Teacher of the Year, McComb will take a leave from teaching and will spend next year travelling the nation and the world representing and advocating for public school teachers at more than 150 events.
A native of King of Prussia, Pennsylvania, McComb came to Baltimore County Public Schools in 2006. In addition to serving as an English teacher at Patapsco High School in Dundalk, in 2007, he became the school's coordinator of the Advancement Via Individual Determination (AVID) program, which teaches middle-of-the-road students study skills that enable them to take Advanced Placement and other upper-level classes in high school to prepare them for college.
In addition to teaching AVID, he serves as a staff development teacher at Patapsco, where he helps to coordinate professional training activities and nurture teacher growth. He has also coached tennis and track at Patapsco, and in 2012, he visited China as part of the Baltimore County school system's cultural exchange program.
McComb has also served as a curriculum writer for the school system and is an adjunct teacher at Towson University.
He earned his bachelor's and master's degrees from the University of Pittsburgh and holds a School Improvement Leadership Certificate from Goucher College.
McComb and his wife, Sarah, who also teaches at Patapsco High School, live in Joppa, Maryland, and celebrated the birth of their first child, Silas, earlier this year.
The National Teacher of the Year Program is run by the Council of Chief State School Officers (CCSSO), which selects a national winner from among all state teachers of the year. A CCSSO panel representing 15 national education organizations chose four finalists from the 2014 state teachers of the year, conducted interviews with each of the finalists, and ultimately selected McComb as the National Teacher of the Year.
For more information about Sean McComb and the National Teacher of the Year Program, visit www.bcps.org or www.ccsso.org/ntoy/About_the_Program.html.