Goucher College Names Athenaeum for President Sanford J. Ungar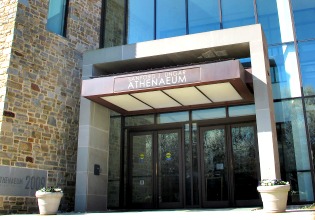 Goucher College opened the Athenaeum in September 2009 as the new flagship building of its campus, the figurative center of the academic community.  As a fitting tribute for his 13 years of outstanding service as the college's president, Goucher's Board of Trustees has announced that the building will now be known as the Sanford J. Ungar Athenaeum.
"The Board of Trustees is proud to recognize Sandy's enthusiasm, tireless dedication, and bold leadership of Goucher College by dedicating this building, the heart of campus life, in his name," said Norma Lynn Fox '76, the board's chair.
Soon after Ungar became Goucher's president in July 2001, the college approved a new strategic plan, "Transcending Boundaries of the Map & the Mind." One of the goals of this 2002 blueprint stated: "We will build an Athenaeum, housing an expanded college library, dining facilities, performance and lecture halls, and common areas, that will serve as the intellectual, social, and cultural nexus around which Goucher community members will gather in the free exchange of ideas."
Through Ungar's vision, and with the help of a wide-ranging implementation team, the Athenaeum became the most prominent and important manifestation of Goucher's ideals. The 103,000-square-foot building is open 24 hours a day seven days a week during the academic year and features a technologically superior library, including archives and special collections; an information commons (named for U.S. Senator Barbara A. Mikulski); a spacious open forum for performances, public discussions, and other events; a café; an art gallery; a center for community service and multicultural affairs programming; classrooms; a commuter lounge; and spaces for exercise, conversation, and quiet reflection and relaxation. The Athenaeum weaves together the various threads of life at the college in one signature building.
"The Athenaeum and its multiple uses have come to symbolize in many ways the strengths and values that Sandy has promoted at Goucher during his presidency: academic rigor through a liberal arts education; civic engagement; international experiences; diversity and civil discourse; and lifelong learning," said Marilyn Southard Warshawsky '68, a member of the Goucher College Board of Trustees and its former chair.
"Envisioning the Athenaeum, breaking ground for it, building it, and opening it — these are all etched in my mind as some of my happiest, proudest memories at Goucher," said Ungar. "Having my name attached to the Athenaeum for generations to come is a moving and humbling honor."
Ungar will step down as Goucher's 10th president on June 30, 2014.