Not Just Any Old Hack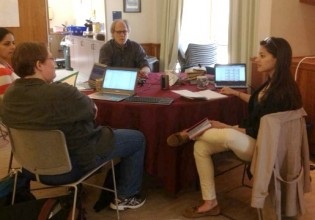 Hacking isn't exactly a word with a positive connotation, but at Goucher College, it results in positive things.
In the event "Coding for Community: A Civic Hackathon," held Friday, April 11, to Sunday, April 13, participants were encouraged to build apps or other platforms to create opportunities for neighborhoods to survive and thrive.
"It was a blast. It was fascinating to see the projects people came up with, and it was exciting to support that," said Tiffany Espinosa, assistant dean of Goucher's Robert S. Welch Center for Graduate and Professional Studies and interim director of the Master of Arts in Management Program. "It's a way for us to walk the walk. We want to be working with people making an impact in the world … . It's a perfect way to engage across boundaries: geographic, academic, and interdisciplinary."
Goucher College's graduate programs in Cultural Sustainability, Digital Arts, Environmental Studies, and Management hosted approximately 30 participants, including some undergraduate and graduate students, but mostly community members from the Mid-Atlantic region, who came up with ideas they designed, built, and presented over the course of the weekend.
The participants formed ad hoc teams and worked on four ideas. The resulting projects were judged by leaders from technology, sustainability, and regional cultural spaces, who awarded monetary prizes (first, $500; second, $200; third, $100) and provided valuable feedback.
The winning submission, "House Plans for Firefighters," lets firefighters see the floor plan of a home before entering it, providing valuable information for everyone's safety. The app links street addresses with uploaded floor plans, as well as information on the number and characteristics of residents.
The other ideas were Pop•a•Shop, which matches vacant building owners with pop-up shops to create commerce in otherwise empty areas; Green-a-teer, a management tool to help people find and adopt vacant lots for gardening or other activities; and Let's Go Parks!, a web-based graphic visualization tool that organizes data on national parks visitors, which would help the Park Service to create strategies to engage the public more effectively.
Espinosa said one of the strengths of the event is bringing together people with different backgrounds and seeing what could come out of it. "What made it successful was that both the civic-minded and the technology-oriented attendees said this was an awesome experience for them," she said.
Michael E. Scott-Nelson, the director of Goucher's Master of Arts in Digital Arts Program and hackathon participant, said he partnered with someone who didn't know how to build things, but who had a really great idea. "You need all types; you need people with vision, people who produce content, people who can create a structured platform for that content," he said.
Scott-Nelson has been involved in similar events before and compared the hackathon to a marathon. "It's a little bit of a race, but you're racing to build something of quality and substance," he said. He said he gravitated to and joined the Pop•a•Shop team because it seemed to have self-sustaining momentum.
"We've got a working site. My teammates are going to keep it going, and I'm going to help out," he said. "The event is kind of a flash in the pan, but it's really an opportunity to get liftoff."
Espinosa said that's the ultimate goal of the event. "We created the space as a platform and the rest is up to the participants and how their particular gifts and interests combine over the course of the weekend," she said. "All four ideas that came out of this had amazing aspects related to community, environment, and practical ways they could make the world better."
She said though another hackathon isn't yet scheduled, it's definitely in the works.
For more information on the recent civic hackathon and future events, visit the Goucher page, the host for the projects, or the group's Facebook page.