Shakespeare Summer Intensive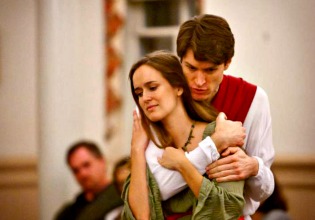 This summer, study and perform with the Maryland Summer Shakespeare Intensive at Goucher College.
This three-week, three-credit, actor-training course will run from Monday, June 2, to Sunday, June 22. Participants will learn original practices, an approach to acting Shakespeare that captures the form and methods of Elizabethan-era theatre companies, and emphasizes direct interaction with the audience.
Classes will review Shakespeare scene study, voice, and movement for the stage; analyze texts; and participate in workshops and lectures on Shakespeare's life and times, stage combat, and historic dance. Students also will have the opportunity to perform on Friday, June 20; Saturday, June 21; and Sunday, June 22.
The course is taught by professional actors, along with members of the Goucher faculty from the Department of Theatre. The registration deadline is Thursday, May 15.
For more information, visit goucher.edu/Shakespeare or contact Michael Curry, professor and chair of the Department of Theatre, at 410-337-6275 or michael.curry@goucher.edu.