'The Potters of Hebron'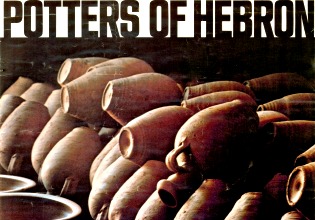 Goucher College's Art and Art History Department is presenting the 2014 Irwin C. Schroedl Lecture in Decorative Arts and Material Culture by Robert Haber, archaeologist and expert on Greek and Roman art. Haber will discuss his film The Potters of Hebron on Thursday, April 3, at 8 p.m. in Kelley Lecture Hall.
This event is free and open to the public, and no tickets are necessary. For more information, contact April Oettinger, associate professor of art, at april.oettinger@goucher.edu.
The Potters of Hebron documents the process of making large water storage jars called zirs, which are still used by many Arab families today. The film gives a close look at modern techniques for producing these large vessels, which reveal previously obscure clues about ancient Greek and Roman amphora, the standard shipping container used to hold wine, oil, and agricultural products that were carried by ships throughout the ancient world.
Haber will discuss how observing artisans working within traditional labor-intensive ways can help uncover the context of the many seemingly unrelated fragments that are found throughout archaeological excavations.
Haber became interested in archeology and antiquities while studying and working on an excavation in Jerusalem. He was awarded an apprenticeship at the Israel Museum and was later hired by its restoration department. He went on to study at the University College London as a Kress Fellow and received a diploma in the conservation of ancient materials.
During his studies in London, Haber developed a deep interest in ancient technology, which was complemented by a fascination with traditional craft techniques. This led to his producing and directing two award-winning documentaries that record the ancient legacy of crafts that are still practiced today in the Middle East. These films were screened entries at the prestigious Margaret Mead Film Festival as well as other venues. Since then the documentaries have been viewed at universities and museums worldwide.
Haber went on to establish his own conservation and restoration studio in New York. In addition to later running his own gallery, he was also invited to join Artemis Fine Arts, Ltd. in London, where he acted as the principal agent for antiquities and served as a member of the board of directors. Today Haber continues his work as an independent art dealer and consultant, working with private collectors and museums around the world.