"Post-Holocaust Anti-Semitism and the 'Invention-Discovery' of PTSD"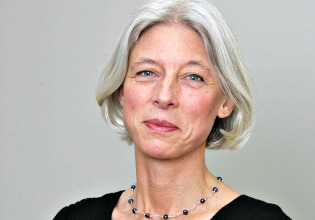 Dagmar Herzog, a professor of history at the Graduate Center of City University of New York, will present the talk "Post-Holocaust Anti-Semitism and the 'Invention-Discovery' of PTSD" on Monday, April 7, at 4:30 p.m. in the Batza Room of Goucher College's Athenaeum.
In this presentation, Herzog will discuss the emotionally charged conflicts among medical professionals in West Germany, the United States, and Israel from the 1950s to the 1970s over reparations for Holocaust survivors' damaged mental health. She will emphasize the resurgence of anti-Semitism in the wake of Nazism's defeat and the complex atmosphere of resentment against survivors, as well as prominent professionals' hostility toward survivors as key factors prompting a handful of doctors who were sympathetic to the survivors to develop the concepts of "massive psychic trauma" and "post-traumatic stress disorder."
This event is free and open to the public, and no tickets are required. For more information, contact Robert Beachy, associate professor of history, at 410-337-6466 or rbeachy@goucher.edu.
Herzog is distinguished professor of history and the Daniel Rose Faculty Scholar at the Graduate Center, City University of New York. She has published widely in the history of religion in Europe and the United States on the Holocaust and its aftermath, and on the histories of gender and sexuality. She recently completed Sexuality in Europe: A Twentieth-Century History. She is also the author of Sex in Crisis: The New Sexual Revolution and the Future of American Politics, Sex After Fascism: Memory and Morality in Twentieth-Century Germany, and Intimacy and Exclusion: Religious Politics in Pre-Revolutionary Baden.
She is the editor and co-editor of six anthologies, including After the History of Sexuality: German Genealogies With and Beyond Foucault, Brutality and Desire: War and Sexuality in Europe's Twentieth Century, and Lessons and Legacies VII: The Holocaust in International Perspective. She is writing a book on the transatlantic history of psychoanalysis, trauma, and desire in the post-war era, to be titled Cold War Freud.
Herzog graduated summa cum laude from Duke University and received her doctorate from Brown University. Before going to the Graduate Center in 2005, she taught at Michigan State, and she was a Mellon Fellow at Harvard and a member of the Institute for Advanced Study in Princeton, New Jersey.  In 2012, Herzog won a John Simon Guggenheim Memorial Foundation Fellowship for her work in intellectual and cultural history.
This event is sponsored by Goucher's Department of History and Historic Preservation