Learning the Ropes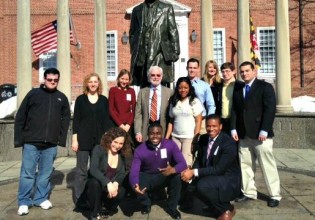 Goucher students participated in the annual Maryland Independent Higher Education Day on February 18. The event, organized in connection with the Maryland Independent College and University Association (MICUA), of which Goucher is a member, brings college students and administrators from across the state to Maryland's capital for a briefing and visits with elected officials.
Students spoke with legislators about the importance of the Sellinger Program, which provides public funding to private colleges and universities to preserve and strengthen higher education in the state.
Goucher students Muhammed Abdulkarimu '15, Eric Ascherv '16, Samantha Burrell '16, Andrew Deal '14, Josh Guttman '14, Jonathan Jayes-Green '14, Sarah Ratrie '14, Amanda Snead '16, and Morgan Stevens '15 were involved this year. "We were well represented in Annapolis," said Allie Laban-Baker, vice president for communications, who coordinated Goucher's participation. "Our outstanding students easily articulated why the Sellinger Program is so important to them and to Goucher."
Private colleges and universities generally receive 3 percent of Maryland's funding for higher education, despite the fact that they produce 28 percent of the state's graduates. Gov. Martin J. O'Malley's initial proposed budget was slated to cut almost $4 million, or nearly 9 percent, of Sellinger Program funding.
In addition to Goucher's participation in Maryland Independent Higher Education Day, on Friday, February 28, President Ungar and student Morgan Stevens testified at the House of Delegates' Appropriations Committee in support of the Sellinger Program.
Morgan said the chance to reach out to legislators and become more politically aware has been a great opportunity not only for herself and her peers, but also for the state's private colleges and universities. "I do believe this kind of work is effective for funding because it is always helpful to put faces to the legislation and contextualize the importance with stories," she said. "I felt that at the end of a long day, it is refreshing to have a student representative speak because everyone labels us as the future."
She said she now has a much clearer idea of the complications of the state budget, and her interest in education has become more focused. "I want to advocate not just for private colleges and financial aid, but also for city public schools and public schools in general," she said.
Goucher's efforts are paying off. Earlier this month, the Maryland Senate passed its version of the operating budget for the state and restored more than $3.2 million to the Sellinger Program, bringing the total appropriation to $44.2 million. The House of Delegates will vote on its version of the state operating budget this week.