Goucher Repertory Dance Ensemble Spring Concert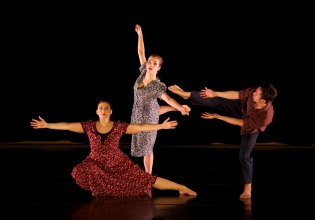 The 2014 Goucher Repertory Dance Ensemble Spring Concert—held on Friday, April 11, and Saturday, April 12—will feature Goucher students performing works by modern guest artists Xan Burley and Alex Springer, Goucher faculty member Karissa Horowicz, and Goucher students Julia Corrigan '14 and Ashley Daigle '14.
Also being performed will be George Balanchine's Episodes and August Bournonville's Bournonville Divertissements, staged by Nilas Martins.  
Both days' events will take place at 7:30 p.m. in Kraushaar Auditorium and are open to the public. There will also be a 2 p.m. matinee on Saturday. Tickets are $15 general admission and $5 for students and senior citizens. Reservations must be made in advance at goucher.edu/tickets. Questions about tickets can be made by calling 410-337-6333 or e-mailing boxoffice@goucher.edu.
Attendees will also have a chance to meet the artists at a pre-show event on Friday, April 11, at 6:45 p.m. in Goucher's Rosenberg Gallery.