New Graduate Programs at Goucher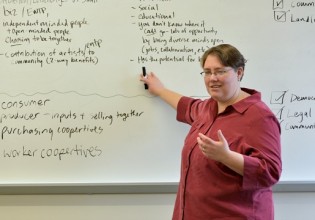 Photo: Tiffany Espinosa teaching during the January 2014 residential portion of graduate courses.
Though Kayhla Cornell has loved her time in Goucher's cultural sustainability master's program, she has decided to join the college's new environmental studies master's program. Kayhla thinks the environmentally focused coursework will be a better fit for her future goals, plus she gets to continue the "incredible experience" she has had with Goucher's Welch Center for Graduate and Professional Studies.
"I have always been interested in environmental justice and green criminology; all of my academic work in the graduate program so far has involved these topics," she said. "The environmental studies program will allow me to become more involved with the subjects I'm most passionate about."
Kayhla's transition to the new program should be a smooth one because some current courses can be applied to her new programs. One such course was "Environmental Change and Impacts: Food and Sustainability," which she called "an incredible experience. That's the best part of being involved with this program: It's a learning experience, and it will take you far beyond the borders of a traditional class."
Goucher's Welch Center for Graduate and Professional Studies recently got the Maryland Higher Education Commission approval to offer the Master of Arts in Environmental Studies, along with the Master of Arts in Management and a Master of Fine Arts in Digital Arts.
Tiffany Espinosa, assistant dean of graduate programs and graduate faculty member, said the new degrees are obvious complements to the existing programs.
"There aren't many programs out there that are training students to think and work across the for-profit, nonprofit, and government sectors," she said. "The Welch Center is about empowering the next generation of leaders. The world needs more broad-thinking leaders to guide decision-making and create value both for their organizations and the communities they work in."
The programs are all highly flexible and easily tailored to each student's professional and personal needs. Some programs have a 4+1 or 4+2 component, where Goucher undergraduates may earn both a bachelor's degree and master's degree on an accelerated track.
And in addition to the new programs, the Welch Center has established dual-degree master's programs through which students can earn two masters at once. "By offering the dual-degree option, we are enabling our students to maximize their knowledge and credentials while minimizing their time in school," Espinosa said. The option is available in the Master of Arts in Cultural Sustainability, Master of Arts in Digital Arts, Master of Fine Arts in Digital Arts, Master of Arts in Environmental Studies, and Master of Arts in Management programs.
For more information about all programs offered by the Welch Center, contact Megan Cornett, director of admissions, at 410-337-6200 or mcornett@goucher.edu. Applications for the new and current degree offerings are now being accepted for Fall 2014 enrollment.
For more information, see the graduate programs website at www.goucher.edu/graduate-programs.