iHelp: the Rotaract Club at Goucher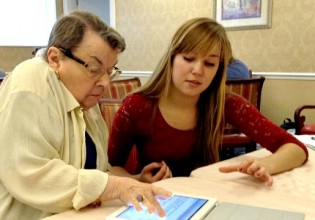 Janet Taylor walked into the activity room of her retirement community last Friday carrying a sleek iPad she only used for FaceTime with her 2-year-old granddaughter in California. "Is Google the same as the Internet?" she asked Maddie Lenz '17, her partner during Goucher's Rotaract Club's tutoring session for senior citizens and technology at Edenwald. When Tayor left an hour later, she knew how to log on and Google pumpkin recipes.
Taylor was one in a crowded roomful of senior citizens who brought tablets, Kindles, and smartphones to get tech help from millennials at Goucher College. She said though she's been tutored before, she forgets how to use her iPad for applications other than video phone calls. "Today I was hoping somebody would show me how to get information," she said, leaning over the screen in puzzlement as a Facebook notification flashed and disappeared.
The Rotaract Club was started at Goucher in 2013 by Sara Kern '16 and Tori Russell and is sponsored by the Rotary Club of Towson. The group provides opportunities for local and international service projects, as well as leadership training to people ages 18 to 30.
The group initially met with Edenwald residents in September, and the response was so overwhelmingly positive, they came back a second time. Edenwald Technology Chair Dorothy Wyatt said the students would probably be asked back for a third time. "People were so receptive and happy they were coming back," she said. "It's exceptionally useful."
Russell said that even if Rotaract members didn't have experience with iPads, the devices are intuitive enough to be able to help the senior citizens use them. "I think we're all kind of learning while we're helping them," she said. "It's similar to my MacBook … everything is kind of the same."
Derek Grimaldi '16 said he helped a resident set up Netflix and solve a few logistical problems on her iPad. Grimaldi, who is familiar with the device because he owns one, said the experience was rewarding. "The residents are so friendly," he said.
Volunteering with seniors is just one of the activities the club is doing. Other recent activities include working with an arts therapy organization and aiding other area nonprofits with events. The group is also working on "The Gift of Life Benefit" set for February 1 at Goucher. Money raised at the event will help pay for a 4-year-old from the Philippines to come to the United States for live-saving heart surgery.
The group meets every other Wednesday at 6:30 p.m. in the Geen Community Center. Meetings generally consist of reviewing local and international service, a guest speaker, and a short social event. For more information, contact Sarah Denn at rotaractcluboftowson@gmail.com or check them out on Facebook at www.facebook.com/RotaractClubOfTowson.