A New Frontier: the Mind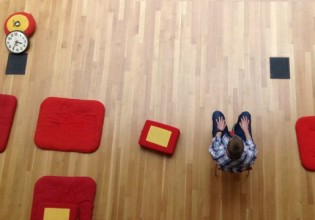 On a Tuesday afternoon in the Athenaeum, espresso machines whirred, people called out to friends, and doors opened and closed in the busy atrium. But the people on the Hyman Forum stage paid no attention.
Instead, for seven hours, a constant stream of students,  faculty, and staff blocked out the world and meditated to invite and introduce others to what they've learned in the Frontiers course "Neurobiology Meets Buddhism: The Promise of Mindfulness."
The "mindfulness moments" on Tuesday, November 5, included at least two people at all times meditating on the stage, usually more. The setup of cushions, chairs, and a slideshow of peaceful scenes and meditation tips introduced others to what the students have been learning all semester.
Taught by Esther Gibbs, who has been teaching chemistry at Goucher for 31 years, the class pulls together her knowledge of science and love for mindfulness. "Mindfulness is a passion of mine; I really believe it's something that the world needs," she said. The benefits are well-documented for children and adults: as a coping mechanism, for stress reduction, depression, and concentration, among other things, according to Gibbs. "Mindfulness is ready to burst on the scene the same way yoga did for the body," she said.
The class is largely discussion-based, as students learn from outside speakers and study the science and experiments behind meditation, neuroplasticity, and why it is that neuroscientists now believe compassion can be taught just as the Buddha taught 2,500 years ago.
Ian Anderson '17, a mathematics and pre-med major, said the clash between science and religion has always intrigued him, so he jumped at the opportunity to sign up. Because of Gibb's involvement, he thought it would be more science-related, but he has embraced the amount of meditation and outlook the course has contained.
Anderson said the practice helps him concentrate, and it makes him more optimistic. "I whole-heartedly plan to continue meditating after the end of this class," he said.
June Chiango '17, a pre-veterinarian major who was initially drawn to meditation by her father's positive experience with it, said meditating in the Hyman Forum was easier than she had expected. "I did not feel distracted, but rather was amazed by how I have strengthened my mindfulness to be able to find the calm in my mind at any time despite what was going on around me," she said.
It's a far cry from where Chiango was at the beginning of the class a few months ago. "We began meditating five minutes in class, which seemed lengthy at the time, but now I can barely notice the passing of time, and I am surprised when 20 minutes passes," she said. Meditation has brought a balance to Chiango's life, and she feels more in control of stress, and even in sharing her thoughts and feelings with others. Classmate Rosie O'Connor '17 said the practice has helped her quiet internal dialogue. "It really centers you and improves your focus without too much effort… who wouldn't want that?" she said.
Gibbs said she would like to teach the class again, or even see it evolve into a regular class. "It is my sense that the students are hungry to learn about this," she said. "I have learned a lot from this wonderful group of students who have been willing to explore with enthusiasm the science and practice of mindfulness."
Open times of meditation at Goucher are:
Mondays, 4-4:30 and 4:30-5 p.m. in Haebler Memorial Chapel. Open to all faculty, staff, and students.
Thursdays, 3 p.m. in ACE. Open to students.