Cuba: a New Intensive Course Abroad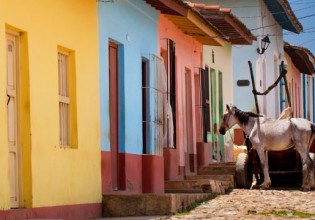 Goucher students are flooded with opportunities—opportunities to learn from first-rate professors; to live in a supportive, close-knit community; to participate in a broad swath of co-curricular arts, athletics, and volunteer activities. Next summer they also will have the opportunity to observe history in the making.
Emerging Markets in Cuba, a new intensive course abroad, will be added to Goucher's already-robust offerings of three-week study abroad options. The ICA will be cross-listed in business management and Latin American studies and will allow students to gain a better understanding of Cuba's history, culture, politics, economics, and its transition from a firmly state-controlled market to a more open market. Spanish language skills will not be required.
"It's truly a rare opportunity," says Jeanie Murphy, an associate professor of Spanish and Latin American Studies and one of the ICA's co-developers. "We are living and witnessing history. It's not often that you get to be in that right place at the right time."
A seven-week pre-course will be offered during the Spring 2014 semester to introduce students to the economic structures and business models now in place in Cuba, as well as the history of the Cuban revolution. Then, next June, students will travel to Cuba, a country the United States has embargoed commercially and economically since 1960. While the embargo does not specifically forbid U.S. citizens' travel to Cuba, it does make it illegal for them to spend money or receive gifts in Cuba under most circumstances if they have not gone through the proper channels to receive a U.S. government-issued license.
David Grossman, assistant professor of international business and marketing and the course's other developer, really got the ball rolling on the ICA after learning President Sanford J. Ungar was very interested in having students go to Cuba. Grossman approached Murphy to make the course a rich, interdisciplinary offering for students—he also doesn't speak much Spanish himself, making Murphy an even more indispensable collaborator.
"Sandy really wanted this program to happen," says Murphy. "We saw this as a great opportunity for Goucher because we have already established ourselves as the most important school in terms of study abroad in the country, in my opinion. So what better time than now to really expand on that and say: 'Our students go to China, South Africa, and now they can travel to Cuba.'"
Grossman and Murphy began working with Daniel Norton, associate dean for international studies, who encouraged them to partner with the Center for Cross Cultural Studies, which had previous experience and proper licensing to bring U.S. students to Cuba.
"After having been to Cuba, we recognize the importance of having someone on the ground there who knows the system and who can make the contacts we need," says Grossman. "It's not the kind of place where you can go and just start making cold calls. It made sense to have that connection, and then we took it from there."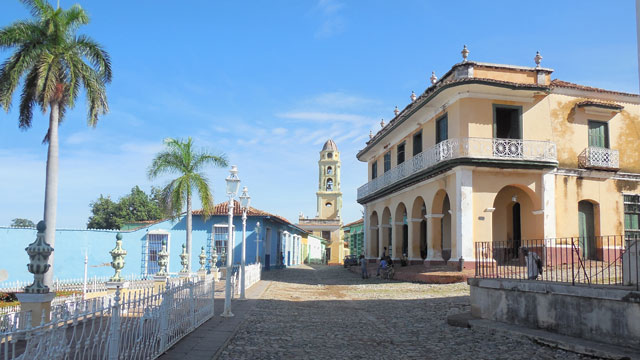 Grossman and Murphy traveled to Cuba last summer to begin developing the course's agenda. "We knew we didn't want it to be a people-to-people tour," says Grossman. "The academic component of the trip will be very important. Culture is interesting, certainly, but we will be emphasizing business and historical aspects during the course."
The 15 or so students who go on this ICA will learn from a variety of Cuban businesspeople—from individual entrepreneurs who are free for the first time to sell CDs or DVDs, drive their own taxi, or run a small B&B out of their home, to representatives from the School of Tourism at the University of Havana, the Chamber of Commerce, tobacco cultivators and producers, and the internationally known rum company Havana Club. Students also will take part in various cultural excursions and activities, including going to watch a baseball game.
"The country is really changing, and we have been able to find people who are willing to talk to students about these remarkable changes that are happening. It's really exciting," says Murphy.
Students will spend most of their first week in Havana, where many companies are located, but then they will travel to Cienfuegos, Trinidad, Matanzas, Santa Clara, and Sancti Spiritus. "When you get out to these other cities, you begin to see how much more there is to Cuba than Havana," says Grossman. "The people are amazing. It just gets better and better the more you see."
Grossman and Murphy have both developed and led ICAs at Goucher before, and both agree they are a lot of work to get off the ground. They both also agree that the work is totally worth it.
"I think it's ICAs are a fabulous chance for me to get to know the students on a different level outside of class and see how they react to different situations and how much I enjoy the moments that they are enjoying," says Murphy.
"Being relatively new to Goucher, doing an ICA is one of the quickest ways for me to build up a rapport with students," Grossman adds. "They begin to see me in a different way. They understand that if I'm being strict, it's because I have a bigger plan for them, and I want to take them down this path."
Grossman and Murphy say they want students to gain a better, more complete appreciation for the history of Cuba and of the country's slow process from pre-Revolution to a nascent capitalistic economy.
"No matter how tired and sweaty students are going to be, they will still be sitting there thinking: "I am watching living history and seeing things change, seeing this economy change.' It's going to be interesting and exciting to see what transformations this will bring," says Grossman.