Goucher Repertory Dance Ensemble Fall Concert "New Perspectives"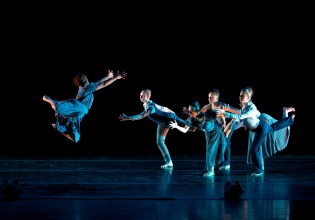 The 2013 Goucher Repertory Dance Ensemble Fall Concert "New Perspectives" — held Friday, November 22, and Saturday, November 23 — will feature Goucher students performing ballet and modern works by guest artists Emery LeCrone, Gina Patterson, and Andrea Miller of Gallim Dance, as well as new works by Goucher faculty.
The concert will be held at 7:30 p.m. on Friday and Saturday, and at 2 p.m. on Saturday; all performances will take place in Kraushaar Auditorium and are open to the public. Tickets are $15 general admission and $5 for students, senior citizens, and Goucher OneCard holders. Reservations must be made in advance at www.goucher.edu/tickets or by calling 410-337-6333.
Attendees will also have a chance to meet the artists at a pre-show welcome event on Friday, November 22, at 6:45 p.m. in Goucher's Rosenberg Gallery.
LeCrone — a fall 2013 ballet guest artist and a New York City-based teacher, performer, and choreographer — is presenting a new work, "Aetherea," the Latin translation for ethereal, set to music by composer Max Richter. Gina Patterson, a fall 2013 ballet guest artist and artistic director of VOICE Dance Company, has choreographed a contemporary ballet work to the music of Richter's "Recomposed."
There also will be performances of repertory choreographed by Andrea Miller of Gallim Dance, taught by modern guest artist Caroline Fermin of Gallim Dance. Gallim Dance, a Brooklyn-based contemporary dance company founded in 2007, is known for performing original works that embody physicality and imagination.
Goucher Visiting Assistant Professor Trebien Pollard will present a new work titled "Seeing the Unspeakable," a narrative of selective memory and disremembered cries of a nostalgic silhouette, while Associate Professor of Dance Rick Southerland will introduce the new work "Indoctrination: A Design for Living," a comment on traditional and evolutionary practices in life and death that transcend the human spirit no matter what culture or society.